Lauri Markkanen (born 22 May 1997) is a Finnish professional basketball player for the Utah Jazz. He is the son of Finnish basketball players Pekka and Riikka Markkanen, and the younger brother of footballer Eero Markkanen.
Latest Updates Injury Status for Lauri Markkanen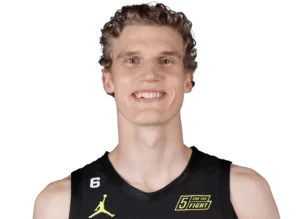 Injury: Hand
Injury Staus: Out vs. Bucks
UPDATE (Mar. 24):
Lauri Markkanen (hand) has been ruled out for Friday's game against the Milwaukee Bucks.
Eric Walden of The Salt Lake Tribune reports that Markkanen said after Wednesday's 127-115 loss to the Trail Blazers that X-rays on his left hand came back negative.
UPDATE (Mar. 22):
Markkanen might not be able to play against Portland on Wednesday because of a back injury, according to Andy Larsen of The Salt Lake Tribune.
Markkanen missed Monday's game because his back hurt, but he had a full practice on Tuesday, so things are looking up for him. If he can play on Wednesday, Simone Fontecchio would probably move back to the second unit, and Ochai Agbaji would get less playing time.
UPDATE (Mar. 20):
Markkanen, an All-NBA candidate for the Jazz, had 28 points and 10 rebounds in Saturday's come-from-behind victory over the Boston Celtics.
As reported by the Utah beat writer Ryan Miller, Markkanen (back) is questionable for Monday's game against the Kings.
Markkanen was sidelined for a game on March 5 due to a back injury, and though he returned to action for the next five games, he still seems to be having problems with his back.
UPDATE (Mar. 18):
Lauri Markkanen is expected to play against the Celtics on Saturday.
UPDATED (Mar. 11):
Markkanen helped the Bulls to a 131-124 victory over the Magic on Thursday night with 31 points (11-22 FG, 3-9 3Pt, 6-6 FT), five rebounds, two assists, and one block in 34 minutes of action.
Markkanen scored 30 or more points, grabbed five boards, dished out two assists, and blocked one shot for the second game in a row.
The Jazz have gone 6-2 since the All-Star break thanks in large part to the play of their breakout forward, who is averaging 30.3 points, 7.5 rebounds, and 1.8 assists on 51.36.83 shooting.
UPDATED (Mar. 09):
Markkanen is expected to play against the Magic on Thursday.
UPDATED (Mar. 05):
Lauri Markkanen is out Sunday against the Thunder due to low back soreness.