Pairing jeans with a basic t-shirt is a timeless casual look that will never go out of style – but there are simple ways to put a fashionable twist on this basic look to give it a polished and luxurious finishing touch to make it stand out further. To begin with, start with a pair of jeans with a great fit and team with a very simple t-shirt in a slightly loose and relaxed style. There are numerous ways to build on this outfit but the simplest option is with some statement accessories. Invest in a great tote bag – it will instantly add style to any outfit no matter how simple it is.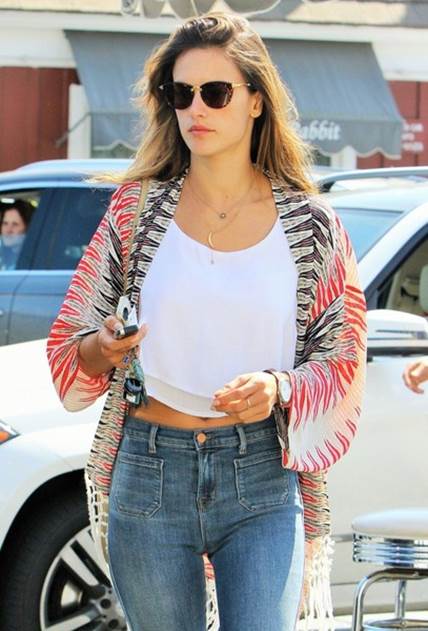 As British model Rosie Huntington-Whiteley always perfectly demonstrates, a few key pieces added to jeans and a t-shirt make a huge difference. She often dresses hers up with a fedora hat, ankle boots and a tote haanging off her arm. Some gold bracelets, sunglasses or a watch will also add further detail to the outfit.
Wearing jeans with a t-shirt is like having a blank canvas – there are many different trends and looks that can be created from it. Add a fringe kimono like Alessandra Ambrosio, and you instantly have a boho-inspired ensemble. Throw on a leather biker jacket, and the outfit has a rock chick edge. Pair with a tailored blazer to dress the outfit up, or work in the current 70s trend with a suede fringe vest. There are many options, and a great jacket or coat can turn a basic look into something very unique and custom looking.
Even a good beauty look can change how jeans and a t-shirt are styled: paint on a bright lip or add some braids to your hair, and it adds a polished and chic finishing touch to this simple outfit.