Eve Wood, daughter of Snezana and Sam Wood, has "soft-launched" her modeling career with a series of sponsored postings for Australian bikini brand Triangl on Instagram.
Sam and Snezana Wood's daughter Eve Wood, 17, is launching her modeling career with an Instagram endorsement of a well-known bikini label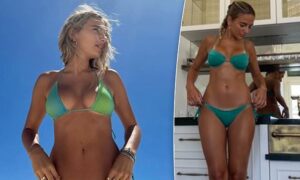 This week, the 17-year-old appeared in an Instagram commercial for the well-known company, alongside a number of other influencers and ambassadors.
Eve wore the Bondi label's Vinca-Savoca bikini, which costs about $135 and can be purchased online.
This venture with Triangl may be her first entry into the influencer market.
In a series of January sponsored photos, she modeled the Mala Jaded Sparkle bikini, which retails for $135, in her kitchen.
Among the images was one of her seated on the counter with her legs crossed.
Snezana let slip in March of last year that her daughter was pursuing a profession in design while they were at the Melbourne Fashion Festival.
Snez captioned a photo of her and her daughter, @eve.vict, writing, "Mother-daughter date night with @eve.vict who is working towards a profession in fashion and is totally crushing it."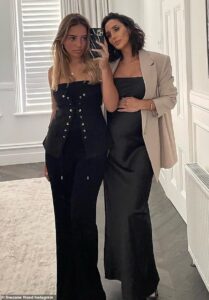 When the youngster first started using Instagram, she described herself as a "model," but she has now changed that to "digital creator" in her bio.
Together with her husband of four years, Sam Wood, whom she met on The Bachelor in 2015, Snezana has three children: Willow, 3, Charlie, 2, and baby Harper. Her firstborn child from that union is her daughter Eve.