Demi Moore posted a video montage to Instagram to celebrate Bruce Willis's 68th birthday. And she continued her birthday tribute to Bruce from Sunday with additional details on Monday.
Bruce Willis celebrates his 68th birthday with ex-wife Demi Moore, current wife Emma, and all five of his daughters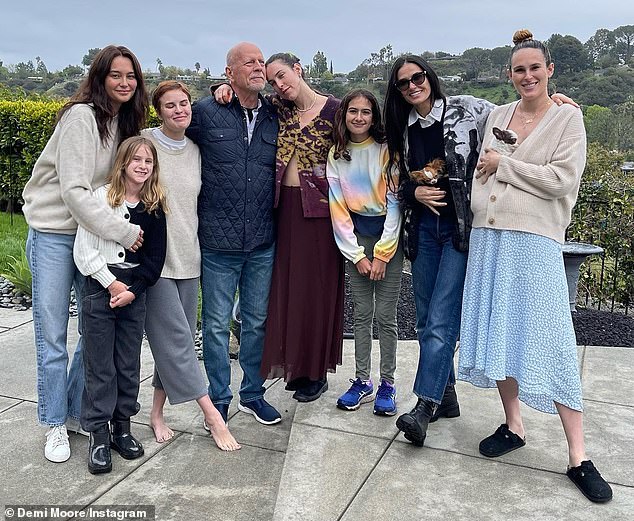 Recently, Willis was diagnosed with dementia and his daughters gathered around him for a photo.
Actor Bruce Willis, his wife Emma Heming Willis, his ex-wife Demi, and their five daughters posed in front of a lush outdoor backdrop on a cloudy day in Los Angeles.
Everybody came dressed casually to pay respects to the patriarch of the family.
The pictures were bursting at the seams with affection, and they included shots of Demi and Bruce's daughters with their dad.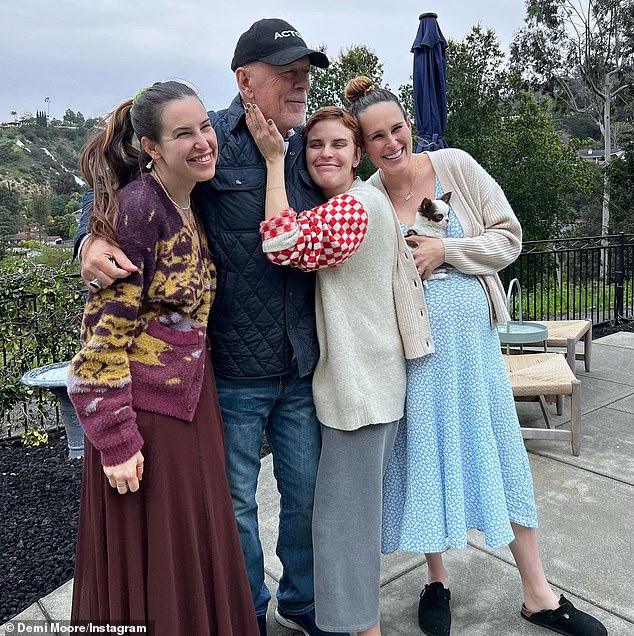 In another picture, parents Tom and Mary held their youngest daughter Tallulah, who sported a short, choppy pixie cut.
Bruce bundled up in a navy blue quilted jacket led the family outside to enjoy the fresh air.
He layered a button-down shirt over a black crew-neck tee, and paired that with a pair of medium-wash blue jeans and a pair of navy and white sneakers.
The Hollywood star accessorized with a thick, plush, heather gray scarf around his neck.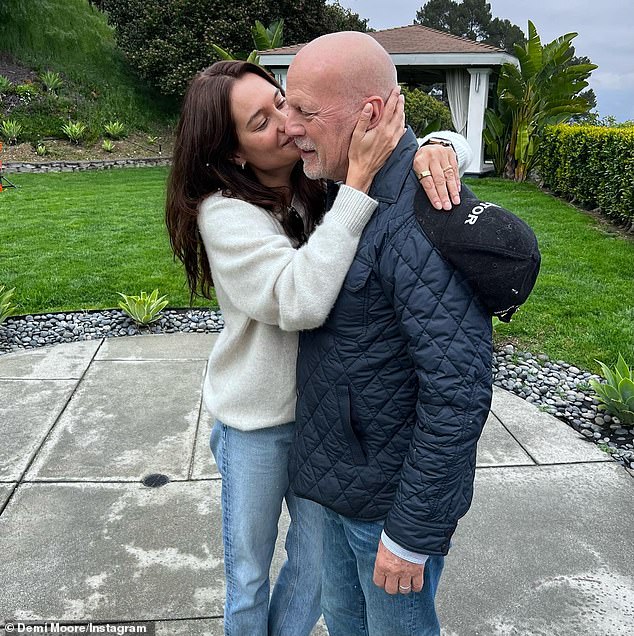 Demi previously posted a video of their family singing "Happy Birthday" to Bruce while she presented him with a candlelit apple pie and heard him speak for the first time since he was diagnosed with dementia.
The couple's daughters and their partners celebrated and posted heartfelt tributes to the couple on Instagram.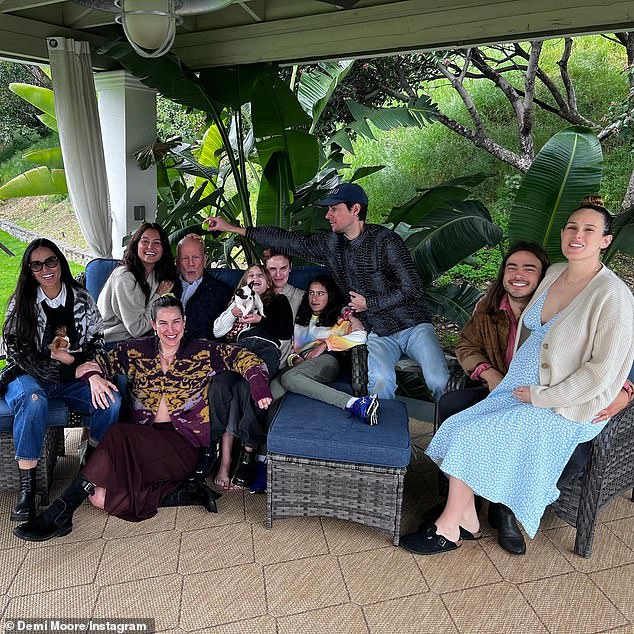 Emma Heming is seen giving him the sweet and giving him a peck on the cheek in the video.
'Happy birthday, BW! So glad we could celebrate you today,' Demi wrote in the caption of the entire family gathered in celebration of Bruce's birthday.
'Love you and love our family,' she continued. 'Thank you to everyone for the love and warm wishes – we all feel them.'
Later, Emma shared a close-up snap of the delicious-looking apple pie.
'I tried to get a pumpkin pie,' the model wrote over the photo, noting that pumpkin is his favorite. 'That was a no-go. Apple pie is his second favorite.'
She wrote in the caption, 'He is pure love. He is so loved. And I'll be loving him always. Happy Birthday my sweet.'
READ ALSO :