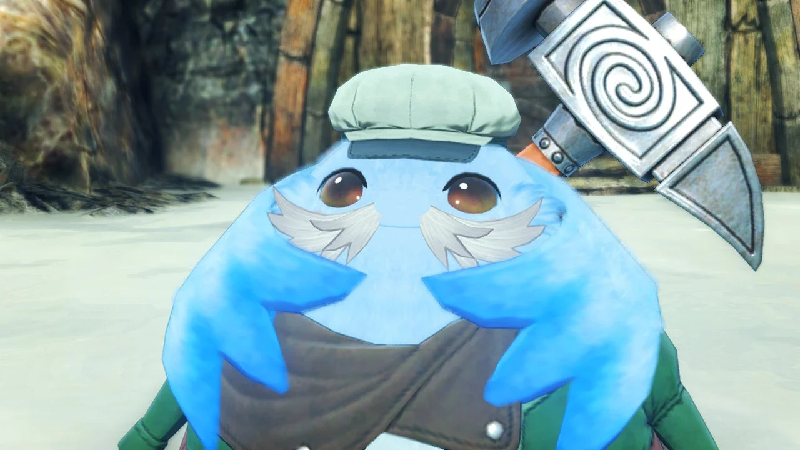 What is the Uniting The Seven Nopon quest in Xenoblade Chronicles 3?
'Unite the Seven Nopon' is a quest you'll receive fairly late in Xenoblade Chronicles 3 and tasks you with finding and talking to a handful of Nopon wielding Ultimate Hammers before gathering them together to unlock the upgrade ability. your weapons Sweet!
How To Complete The 'Uniting The Seven Nopon' Quest in Xenoblade Chronicles 3?
Nopon Locations
| | | |
| --- | --- | --- |
| NOPON NAME | REGION | LOCATION |
| FixiFixi | Cadensia Region – Li Garte Prison Camp | Once you've liberated the prison camp, you'll find FixiFixi in a cell to the right of Cell #1 Rest Spot. You'll need to have Valdi in your squad or he'll refuse to speak with you properly |
| Riku | Any Rest Spot | Once you've rounded up the full crew above, head to any rest spot to have a discussion with Riku that initiates his part in proceedings |
| BurrBurr | Fornis Region, Full | You'll find BurrBurr next to Sage's Domicile on the rocky outcrop where you first meet SkillSkill and unlock the Nopon Coin Xchange |
| Gin-Gin | Pentelas Region – Maktha Wildwood Lower | You'll find Gin-Gin in his treehouse across the far side of the central poisonous swamps in this small area |
| PanePane | Aetia Region, Full | You'll meet PanePane early in the game and can return to him at the Hillside Ferronis Hulk to speak to him during this quest |
| Tempapa | Cadensia Region, Full | You'll meet Tempapa during the "Culinary Repertoire" Hero Side Quest. Return to his home after completing this quest to speak to him |
How To Upgrade Your Weapons in Xenoblade Chronicles 3
Once you've gathered the Nopon, you'll unlock the ability to upgrade your weapons using those fancy Origin Shards you've been gathering during your adventures.
Go to Samon's workshop inside the city, as indicated in the quest, to get this all up and running.
Once all the characters have upgraded their Blade, Samon will state that his task force has gone all out and it's now up to you to "use Blades to rend the cosmos in a new future."
Weapon Upgrade
Origin Shards Required
Noah Blade Upgrade
2 x Round Origin Shard
1 x Toroidal Origin Shard
5 x Trigonal Origin Shard
3 x Hexagonal Origin Shard
4 x Square Origin Shard
4 x Rectangular Origin Shard
2 x Rhomboid Origin Shard
Mio Blade Upgrade
3 x Round Origin Shard
5 x Toroidal Origin Shard
3 x Trigonal Origin Shard
1 x Hexagonal Origin Shard
1 x Square Origin Shard
4 x Rectangular Origin Shard
4 x Rhomboid Origin Shard
Lanz Blade Upgrade
1 x Round Origin Shard
3 x Toroidal Origin Shard
2 x Trigonal Origin Shard
3 x Hexagonal Origin Shard
5 x Square Origin Shard
3 x Rectangular Origin Shard
7 x Rhomboid Origin Shard
Sena Blade Upgrade
5 x Round Origin Shard
2 x Toroidal Origin Shard
2 x Trigonal Origin Shard
4 x Hexagonal Origin Shard
1 x Square Origin Shard
2 x Rectangular Origin Shard
5 x Rhomboid Origin Shard
Eunie Blade Upgrade
5 x Round Origin Shard
4 x Toroidal Origin Shard
3 x Trigonal Origin Shard
3 x Hexagonal Origin Shard
3 x Square Origin Shard
1 x Rectangular Origin Shard
2 x Rhomboid Origin Shard
Taion Blade Upgrade
2 x Round Origin Shard
3 x Toroidal Origin Shard
3 x Trigonal Origin Shard
4 x Hexagonal Origin Shard
4 x Square Origin Shard
4 x Rectangular Origin Shard
1 x Rhomboid Origin Shard
Xenoblade Chronicles 3 wiki :
Xenoblade Chronicles 3
Developer(s)
Monolith Soft
Publisher(s)
Nintendo
Director(s)
Producer(s)

Koh Kojima
Genki Yokota
Katsuya Eguchi
Toyokazu Nonaka
Tomohiro Hagiwara

Programmer(s)
Toshiaki Yajima
Artist(s)
Masatsugu Saito
Koichi Mugitani
Writer(s)

Tetsuya Takahashi
Yuichiro Takeda
Kazuho Hyodo

Composer(s)

Yasunori Mitsuda
ACE
Kenji Hiramatsu
Manami Kiyota
Mariam Abounnasr

Series
Xenoblade Chronicles
Platform(s)
Nintendo Switch
Release
July 29, 2022
Genre(s)
Action role-playing
Mode(s)
Single-player