As Australian bombshell Jessie Wynter keeps falling for TikTok farmer Will Young on Love Island, we thought it would be fun to look back at some of her sexiest photos ever taken.
Love Island: Since joining the South African villa last week, Jessie Wynter has certainly shaken up the ITV show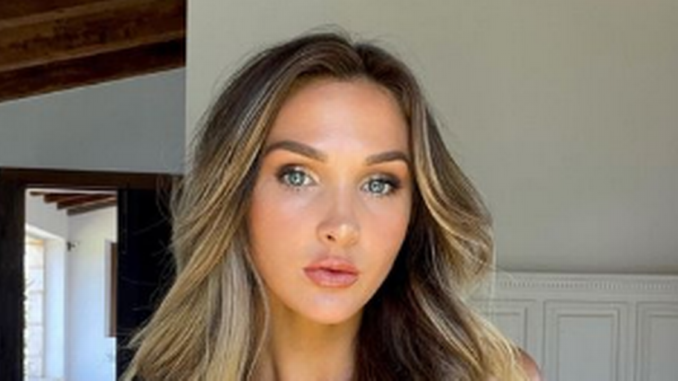 The Australian-born beauty has previously caught the eye of fans of the hit dating show when she appeared in the second season of the show in 2019.
The former waitress had a passionate affair with Todd Elton after meeting him on the widely watched dating show. Six months after leaving the villa, the couple had already split up due to their inability to make their relationship work.
Now, four years after her breakup, the blonde bombshell has returned to our screens in search of love.
As her crush on farmer Will Young deepens, we thought it would be fun to look back at some of her sexiest photos from throughout the years.
Her fans went absolutely wild over a photo she posted of herself in black lace lingerie, which was easily one of her sexiest photos of the year.
The fitness instructor leaned against the cinder block wall wearing a plunging black bra, a tiny black thing, and a garter belt to match.
The reality star's golden tan practically glowed against the crisp white wall, and the scene was made ten times hotter by the way she cupped her breasts as she looked away from the camera, revealing her hourglass figure.
To complement the jaw-dropping outfit, she pulled her golden locks into a tight ponytail and adorned them with a gold pendant necklace.
In November of 2020, the reality star stunned followers with a topless photo. The ITV star gave fans hardly anything to work with when she wore nothing but bikini bottoms to the beach in the dead of winter.
She got the perfect tan while lounging on a green and blue beach towel in the blazing sunshine. The Australian beauty held her chest carefully to protect her modesty for the racy photo, and she flashed a teasing grin for the camera.
As she threw on a pair of aviator sunglasses to shield her eyes from the sun, she braided and parted one side of her long, blonde hair into tight braids.
Reality TV star wowed her Instagram followers with a sultry bikini photo last November.
The personal trainer soaked up the rays in a slinky black bikini, giving her devoted fanbase a glimpse of her toned body.
Her daring black bikini top, which was only held together by string, barely contained her ample assets as she beamed for the camera.
She accessorized with a pair of sting bottoms that matched her top and which she cinched at the waist for the summery photo. Jessie wore a pink button-down shirt under the stunning two piece, and she rolled up the sleeves.
The TV star wore a baseball cap with the rest of her stunning outfit to shield her scalp from the scorching rays of the sun, and she let her dark hair hang loose in beachy waves all the way down to her waist.
With her killer curves on full display, Jessie celebrated the holiday season in a skintight black PVC minidress.
Her stunning gown had a daring corset and plunging neckline that was barely able to contain her ample assets.
Jessie, who has 327,000 Instagram followers, posed in a little black dress with a silver beaded neckline.
She completed the effect with a glamorous full face of makeup, highlighting her clear skin with a dab of blush on the apples of her cheeks.
The TV star used a small amount of brown eyeshadow on her lid and lots of black mascara to make her crystal blue eyes stand out for a smokey effect.
Jessie's golden tan was accentuated by the tiny minidress, which she paired with loose beach waves for her brunette locks.
Read also :