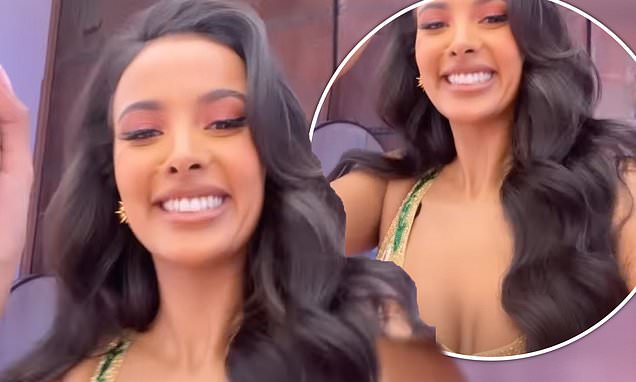 Maya Jama previewed her outfit for the season finale of Aftersun, which is being shot in real-time on Sunday night in Cape Town, South Africa.
After accidentally revealing the pair BEFORE it is televised, Love Island anchor Maya Jama bares a busty display in a colorful sequined short dress for Aftersun in South Africa
Ahead of the season finale of Love Island, she has returned to South Africa.
The 28-year-old TV host posted a video of herself online, in which she showed off her glitzy getup and beamed for the camera before the show even began.
Maya was shining in a sequined minidress with a cheerful design of a crab, a rainbow, and flamingos.
The actress wore her brunette hair in a big, bouncy blowout and a dazzling makeup look to complement her gold hoops.
Maya showed video of podcast hosts Sam Thompson and Indiyah Polack coming on a golf buggy, confirming that they had also reached the villa.
She also gave viewers a glimpse of the set, which was built just metres away from the villa where the competitors were spending their final night.
As a result of Maya's careless spill, everyone knew that Will Young and Jessie Wynter would be eliminated from the Love Island semi-finals before it was officially announced.
The 28-year-old host accidentally revealed the couple's elimination in an ad for the Aftersun spin-off show, which aired mere minutes before the judgement.
 "Join me tonight in South Africa live from the villa," she beckoned in the promo.  "Will and Jessie and Casey and Rosie will be sharing the goss."
A group of evictees, including Casey O'Gorman, 26, and Rosie Seabrook, 24, were seen waving at the camera, along with the TikTok farmer, 23.
She had inadvertently accidentally leaked the big news in a now-deleted Instagram Story.
Will and Jessie appeared in the backdrop of a selfie video Maya posted, but the video and any mention of it have now been deleted from her Facebook.
This comes after Maya spilled the beans next week about who she thinks will win this year's winter series of Love Island and who she'll be presenting with.
Only a few days before the big finale on Monday, Maya made an appearance on The Jonathan Ross Show on Saturday night.
Maya shared whether or not she plans to continue hosting the ITV2 show: "I'm going to be doing the summer one. It starts in… summer."
The TV celebrity swore she couldn't pick favorites when asked by the host who she wanted to win.
"I really like Shaq just because he's a hopeless romantic and he's very cute and so in love. But then I also like Tom and Samie, they're really fun and Tom's gone on a journey."
Maya remarked, "I was so nervous. Obviously it's a very big show, everyone watches it, everyone's got an opinion."
The number of people who said "We want Maya to host" in online forums was surprisingly high. Consequently, I didn't want to risk disappointing anyone.
"I don't want it to be like, 'You guys wanted me to do it and now I'm s**t'. So I felt that pressure, and to get the slow-motion walk right…"
With a deep black halterneck waistcoat with gold buttons, Maya exuded an air of effortless elegance.
She completed her stunning look with a black paneled skirt and added height with strapped black stilettos.
The radio host wore a pair of large gold hoops to complement her loose waves of lustrous brown hair.
She put on thick coats of mascara, her typical slick of eyeliner, and a dab of brown lipstick to bring out her innate beauty.
"You do a normal strut around three or four times," she said, describing the number of times she performed her signature seductive strut on the show. You need to add some sexiness to it.
"Me and my friends the night before I went had a big girls' night and they were like 'OK, show us how you're going to walk."
"As soon as I got there and the camera crew was there, I was like, 'I can't do it', but you do it four or five times and they choose the best."
The winter series will end on Monday night after eight weeks of dramatic recouplings, furious rows, and devastating dumpings.
For the first time since joining the reality show, viewers will be able to see Maya and the islanders in action when they broadcast live from the villa in Cape Town for the finale.
She has not yet left for the southernmost tip of Africa, but she is slated to leave over the weekend so that she and the producers can get everything ready for the big finale.
On Monday, March 13 at 9 p.m., the final will air live on ITV2 and ITVX from South Africa. Because of a time change, tonight's episode will end at 10:35 p.m. instead of the regular hour.