Wearing a crop top and very skimpy bikini bottoms, Hailey Bieber flaunted her toned body in the most recent Rhode ad campaign.
Hailey Bieber bares her toned midriff in a bright crop top and revealing bikini bottoms for Rhode campaign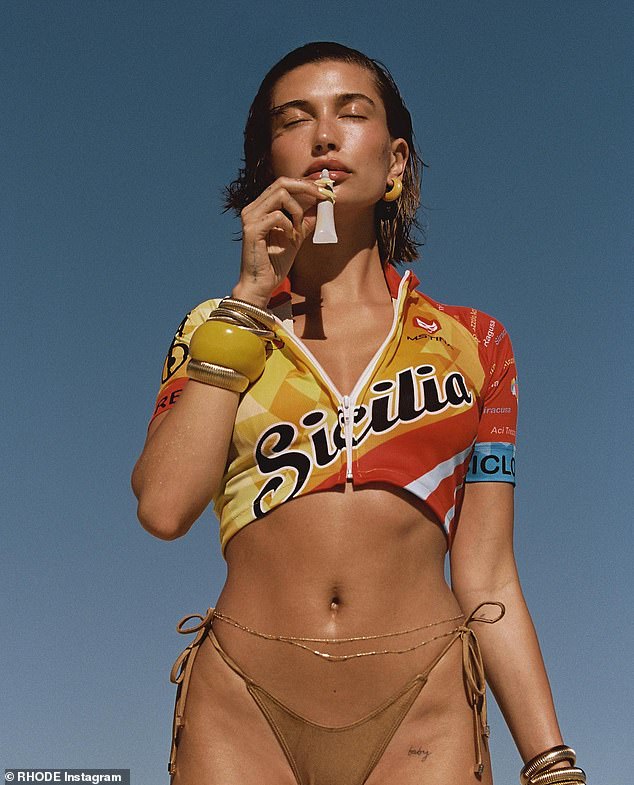 The 26-year-old model, fresh off the success of the debut of her skincare line in Canada, is currently promoting the new passionfruit jelly flavor of her lip peptide treatment, set to hit shelves on April 6.
Hailey wore a striking cropped top that was partially zipped up on the front in the first picture released to the photo series.
The orange and red short-sleeved shirt had the word "Sicily" emblazoned in black across the chest.
She completed her swimwear ensemble with a pair of nude, drawstring bikini bottoms and a dazzling, gold-chained belt that cinched in her toned waist.
For the photo shoot, Hailey wore yellow hooped earrings and an assortment of thick gold bangles on her wrists.
With the clear blue sky spreading behind her, she slicked back her short curls and applied another coat of the "glazed" treatment to her lips.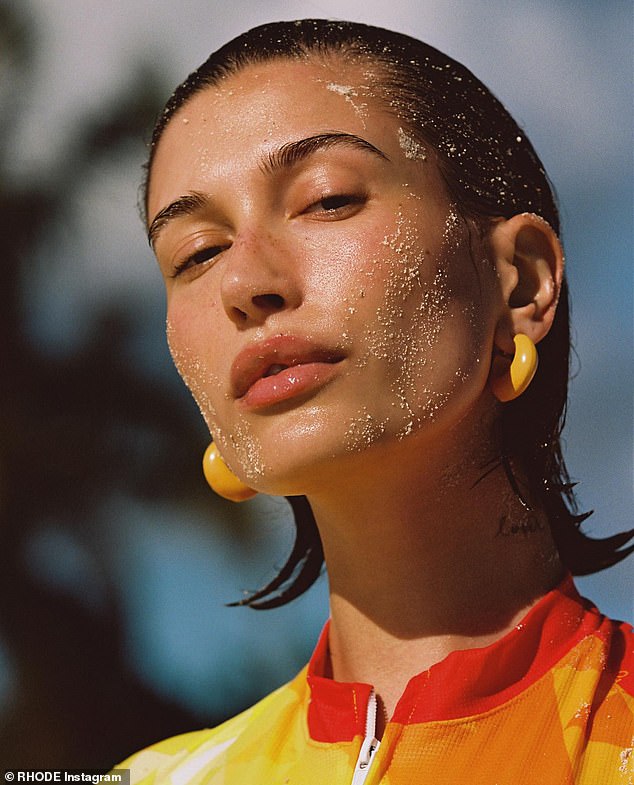 In a second, more intimate shot, the woman looked directly into the camera, sand grains dotting her otherwise radiant complexion.
'Same award-winning formula, juicy new flavor,' she penned in the caption on the post shared on the official Rhode Skin page, and added, 'lip treat in passionfruit jelly is a deeply hydrating lip treatment for naturally plump lips with a glazed finish.'
The media personality continued by writing a list of the product's ingredients, 'packed with peptides, cupuaçu, babassu and shea butter that nourish, replenish, and reduce dryness from sun exposure and warmer weather.'
The businesswoman continued by saying that the product would go on sale on April 6 for $16 (the same as the standard lip peptide treatment).
This week, Hailey launched her skincare line in Canada, marking another another important step in her career.
The diva stunned with a light blue bandeau and a short miniskirt that revealed her long longs in a slew of photographs posted to her main Instagram account early Thursday morning.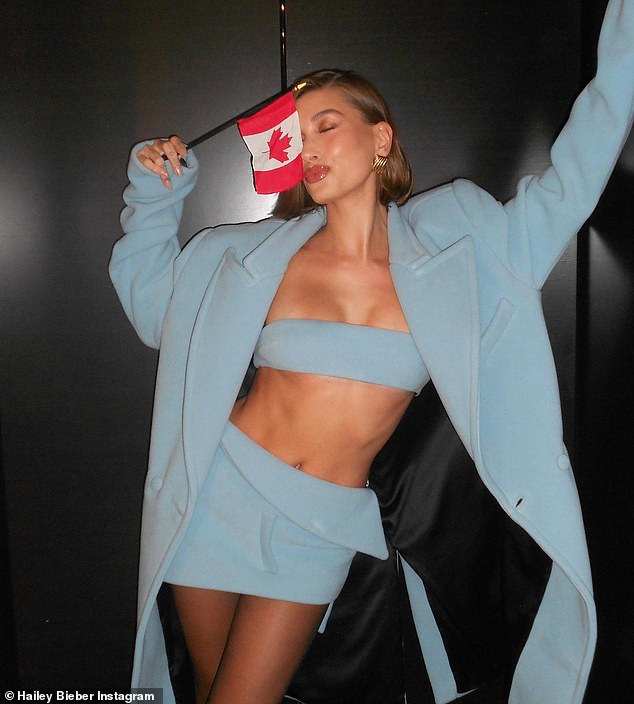 To combat the frigid weather, she threw on a large wool coat that appeared to be of the same material and color.
She was holding a miniature Canadian flag and her short hair was parted on the side so that the ends just touched the tops of her shoulders.
Hailey accessorized her chic getup with a pair of gold earrings but no additional ostentatious jewelry.
'@rhode Canada launch dinner such an amazing evening with amazing people. Love you Toronto,' she typed out to her 49.4 million followers. Khloe Kardashian was just one of many social media users that flocked to the comment section, and gushed, 'Wow!!! Just wow!'
The celebrity has been posting Instagram updates counting down the days until Rhode's premiere in Canada.
In a story published on Tuesday, Hailey said during an interview with FASHION Magazine, 'There are so many amazing brands [out there]. I wanted Rhode to be a brand that could put out that one really good moisturizer or that one really good lip treatment.'
'We're also conscious of not putting excess into the environment. These are things that are topics of conversation every single time we meet about a new product.'
READ ALSO :