The IMG model, 26, flaunted her trim 5 foot 7 inch frame in a colorful triangular top with a front tie and a video of her on the beach in a yellow tube top and blanket with lots of bangles.
Hailey Bieber promotes Rhode Skin with bikini-clad beach photos after TikTokers report allergic reactions to her lip treatment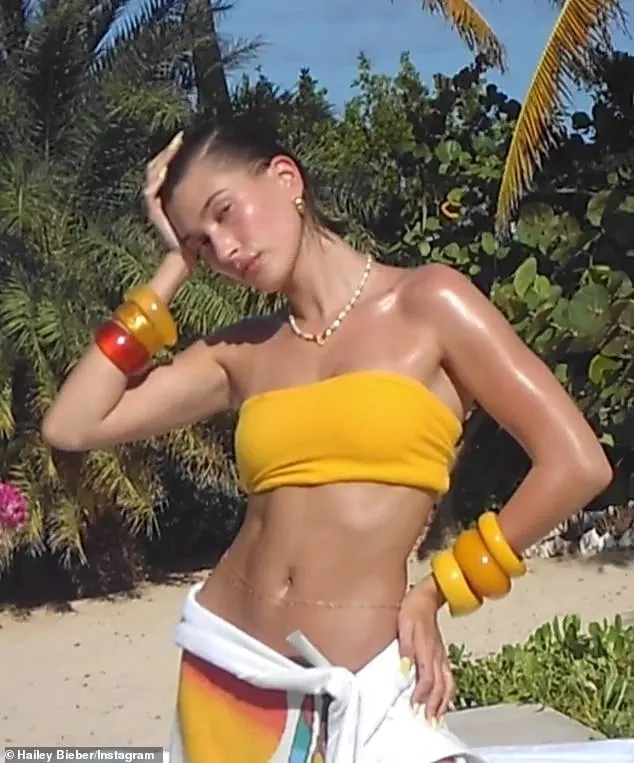 Founder of the skincare line using her middle name, Hailey Baldwin Bieber uploaded a slideshow of herself in a bikini while on vacation at an undisclosed tropical coastal resort in June.
In a video of herself in the water, Hailey exclaimed, "Hello!" showing her sillier side. To the world: "A new flavor is coming next month."
Bieber, who has 66.7 million Instagram followers, announced the launch of a new flavor of her $16 peptide lip treatment on Wednesday.
"But for now you can grab our salted caramel, watermelon, unscented, and [$42] lip trio now back in stock on rhodeskin.com."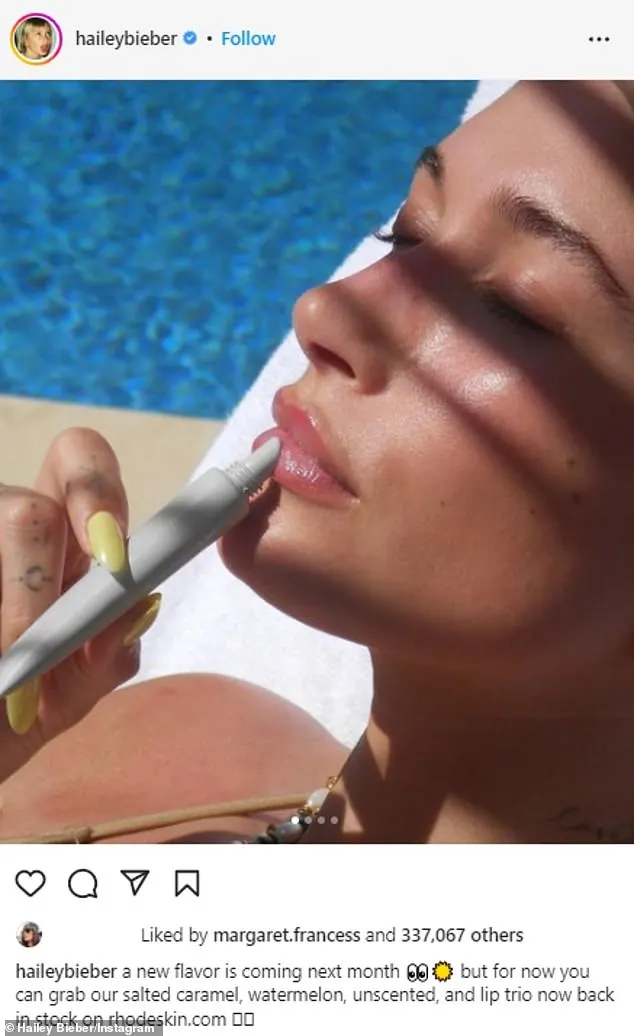 The makeover of the Arizona native was released after a number of TikTokers' videos claimed the peptide lip treatment triggered stinging and burning allergic responses, dry cracked lips, and dark stains on the lips.
A TikToker by the handle @GourdLord said the peptide lip treatment made her face break out in hives due to her tree nut allergy, so she asked for a "refund and better labeling" on the packaging.
One woman said, "went into anaphylactic shock, was in the hospital for 12 days, and they ignored my emails" among the several consumers who had negative reactions on a Rhode TikTok from February 20.
As stated in their Frequently Asked Questions section, Rhode does not employ any additional ingredients that are on the FDA's tree nut allergy list.
"We do use other nut and seed oils, like babassu (Orbignya Oleifera Seed Oil) and cupuaçu (Theobroma Grandiflorum Seed Butter) and work to fully convey this ingredient information through our packaging and website in accordance with applicable federal, state and local regulations."
"Additionally, our products are not manufactured in a nut-free facility so there is always the very small possibility of cross-contamination with tree nuts."
In addition, Rhode Skin is still engaged in a trademark infringement lawsuit against RHODE's founders, fashion designers Phoebe Vickers and Purna Khatau, who launched their business in 2014.