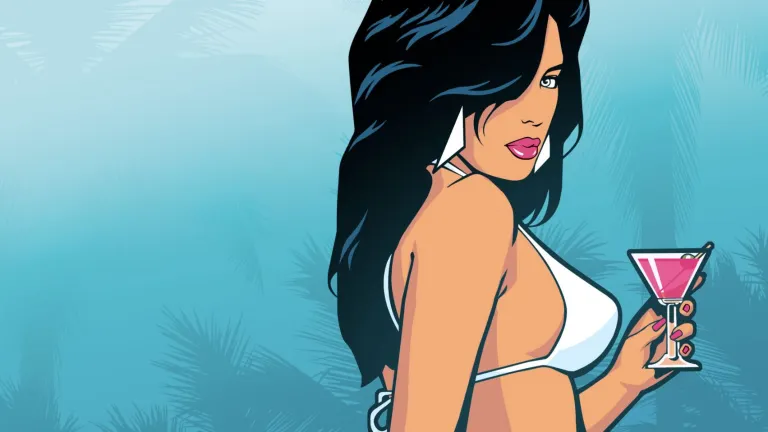 A user on the GTA forums leaked 90 pre-alpha footage videos from GTA 6 into a single 3GB file, causing Twitter to explode with excitement at the prospect of a new GTA game.
Many aspects of the game were covered in these leaks, including a female lead, Vice City confirmed among the game's locations, and the game more generally.
Everyone coming to twitter to scroll through the GTA 6 leaks #GTA6 #gta6leaked pic.twitter.com/DXyh15Ur8F

— cesar (@jebaiting) September 18, 2022
Bonnie & Clyde Inspired Campaign set in Vice City?
There is almost no doubt at this point that GTA 6 takes place in Vice City. Not only do many of the background locations certainly resemble Vice City (palm trees, beaches, etc.), but at one point we see a character board a "Vice City Metro" train.
GTA 6 may include an overhauled inventory system
Inventory appears on both sides of the game's UI, listing both a "Duffel Bag" and a "Loot Bag". It appears that players can quickly move through inventory using the D-pad on their controller, which will bring it in line with how similar systems work in many other games, and that weapons will be more or less available in the same place as consumables such as medical supplies.
GTA 6 Leaks confirmed to be real footage
Notable tech and video game journalist Jason Schrier tweeted a confirmation that the massive GTA VI leak is, in fact, real. He also refers to it as "one of the biggest leaks in video game history."
Not that there was much doubt, but I've confirmed with Rockstar sources that this weekend's massive Grand Theft Auto VI leak is indeed real. The footage is early and unfinished, of course. This is one of the biggest leaks in video game history and a nightmare for Rockstar Games

— Jason Schreier (@jasonschreier) September 18, 2022
Finally, these leaks seem to confirm that GTA 6 will not only feature multiple playable protagonists, but will even offer a playable female lead. Various leaked media shows the player independently controlling a female character identified as Lucia and a male character named Jason.
Grand Theft Auto Wiki
Grand Theft Auto

 

Genre(s)

Action-adventure

Developer(s)

Rockstar North
Digital Eclipse
Rockstar Leeds
Rockstar Canada

Publisher(s)

Rockstar Games

Creator(s)

David Jones[1]
Mike Dailly[2]

Platform(s)

Android
Dreamcast
Fire OS
Game Boy Advance
Game Boy Color
iOS
macOS
Microsoft Windows
MS-DOS
Nintendo DS
Nintendo Switch
Oculus Quest 2
PlayStation
PlayStation 2
PlayStation 3
PlayStation 4
PlayStation 5
PlayStation Portable
Windows Phone
Xbox
Xbox 360
Xbox One
Xbox Series X/S

First release

Grand Theft Auto
28 November 1997

Latest release

Grand Theft Auto: The Trilogy – The Definitive Edition
11 November 2021