An awkward moment between Jennifer Lopez and Ben Affleck at the 2023 Grammy Awards was caught on camera, and the clip quickly went viral.
At the Grammys, Jennifer Lopez seems to lose her cool with Ben Affleck before quickly recovering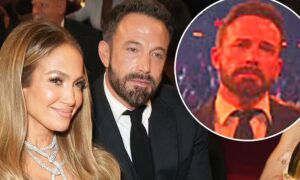 Ben begins the tense exchange by whispering in JLo's ear, prompting her to jerk away and appear to snap at him.
Ben frowns and straightens his vest and posture as JLo responds, and then they realize they're being filmed.
Their faces go blank as they realize that their conversation has been recorded, even though it is hard to make out what they are saying.
JLo's tense expression eases into one of mild curiosity as she looks over at the host, Trevor Noah, who is making a point to the camera.
As cold as ice JLo did her best to hide her husband's vacant expression, but she couldn't help but notice that he was having a rough time of it.
Not much is known about the exchange, but it appears that the singer and actress were unimpressed by something Affleck said.
When this happened on TikTok, users who were watching it flooded the comments section with their thoughts.
There was a post by a user on TikTok that said: 'Jennifer Garner at home eating popcorn like …. "Girlllllll he's your problem now,"
While someone else penned: 'HER FACE WHEH SHE SAW THE CAMERA LOL,'
JLo gushed about Ben on Monday when she posted photos and videos from their Grammy afterparty.
She captioned the post: 'Always the best time with my love, my husband,'
No doubt the awkward exchange wasn't the only memorable moment.
Ben's vacant expression at last night's Grammy Awards made him a social media sensation, solidifying his status as a meme icon.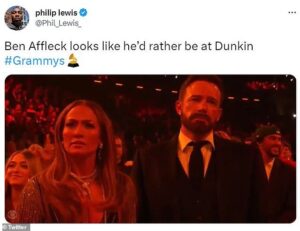 Affleck was seen standing next to the stunning Lopez, who appeared to be having a great time throughout the A-list evening, looking completely uninterested.