On Sunday, when Ben Affleck blank face at the Grammy Awards went viral on social media, he cemented his reputation as a master of memes.
Ben Affleck's bored look at the 2023 Grammys makes fans laugh out loud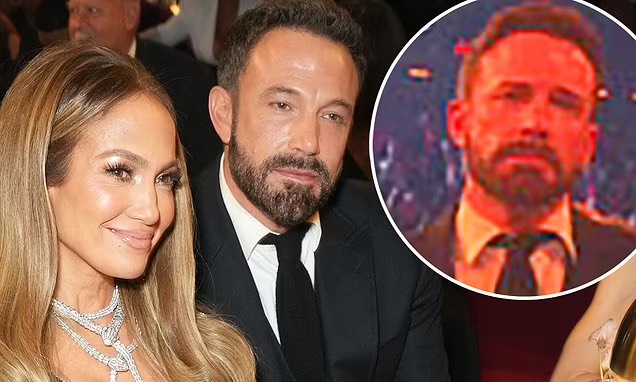 The actor was there to support his wife Jennifer Lopez as she presented the award for Best Pop Vocal Album in a stunning sheer blue gown.
In contrast to Lopez, who appeared to be having a great time at the A-list party, Affleck spent the entire evening looking bored.
The Oscar winner's expressionless viewing of Stevie Wonder's performance of "Higher Ground" inspired a slew of internet memes.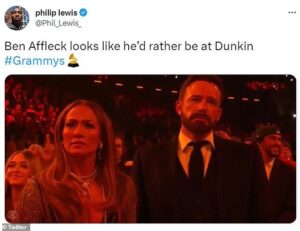 'Ben Affleck looks like he'd rather be at the dentist.' viewer tweeted about Affleck's rumored love of Dunkin' Donuts.
And more and more funny memes kept coming. One viewer wrote: 'Ben Affleck, blink if you're okay,'
'Ben Affleck, blink if you're okay,' said another viewer on Twitter, echoing what everyone else was saying.
One person said: 'Why does Ben Affleck always look like he's 10 minutes away from crying during a much needed smoke break.'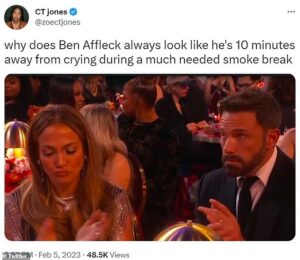 'Ben Affleck would rather be anywhere else than front row at the #Grammys2023 watching Stevie Wonder crush Higher Ground.' another meme.
Other memes compared him to small, wet dogs that are shivering in a towel or putting their face under a faucet.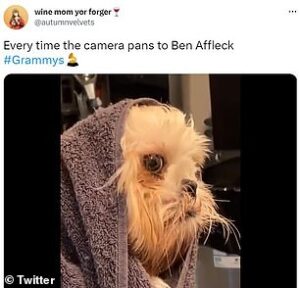 Furthermore, this is not the first time that Affleck has been the focus of an online meme storm. The star of "Pearl Harbor" never ceases to supply hilarious online content.
An interview Ben Affleck gave with Henry Cavill to promote Batman v Superman went viral in 2016, giving rise to a slew of "Sad Affleck" memes.
Cavill answered a question about the film's poor reception, while Affleck remained silent and grimacing.
Affleck has also been immortalized in meme form by a photo of him juggling several Dunkin' Donuts iced coffees.
In 2016, however, a photo of a dejected-looking Ben Affleck puffing on a cigarette went viral, making him the ultimate meme target.