According to TorrentFreak, Genshin Impact has issued a DMCA subpoena demanding that Discord reveal the true identity of the leaker known as Ubatcha.
Genshin Impact sues Discord to find out the identity of a leaker
Ubatcha is one of Genshin Impact's most well-known leakers, with over 465,000 followers on Twitter. They're also a consistent presence on the Genshin Impact Leaks subreddit and run the Wangsheng Funeral Parlor Discord server, which has over 272,000 members. According to the first filing, that is where the infringing content was posted, and as a result, Cognosphere lawyers are requesting that Discord be ordered "to disclose the identity, including the name(s), address(es), telephone number(s), and email address(es) of the user Ubatcha#2719, who is responsible for posting infringing content."
The second filing also states that "the information obtained will be used only for the purposes of protecting the rights granted to Cognosphere under the Copyright Act." That covers a lot of ground, including legal action, which Cognosphere, as MiHoYo, hasn't been afraid to take in the past.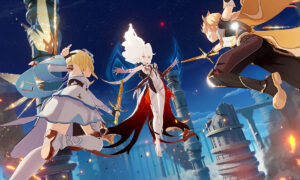 In September 2021, for example, MiHoYo sued Chinese video sharing platform (and Twitch equivalent) Bilibili to determine the identities of 11 different leakers; two months later, they sued seven of them for 500,000 ($71,000) each. MiHoYo also filed legal action in September 2021, forcing the removal of popular Genshin Impact wiki Honey Hunter.
This most recent legal action comes less than two months after a massive leak made public up to nine months' worth of game updates. GamesRadar noted that because the leak was so significant and extensive, many well-known leakers, including Ubatcha, disavowed it. That doesn't seem to have helped him much, though; given the timing and its past dealings with leakers, it seems highly improbable that Cognosphere is trying to find out who Ubatcha really is so that it can send him a Christmas card.
Although it is unknown whether Discord will abide by this subpoena, disclosing this information would still be in accordance with the service's privacy policies. The terms and conditions of Discord state that "We may share information in response to a request for information if we believe disclosure is required by law." But it goes on to say that this usually happens when "national security or law enforcement requirements" apply. It's possible that Discord will claim that the second point doesn't apply either, even though the first is obviously not the case.