If you want know how to defeat the Pyro Hypostasis Extreme difficulty in Ternary of the Blazing Hearth in Genshin Impact, we got've you covered.
How to Defeat the Pyro Hypostasis Extreme Difficulty in Genshin Impact
All of this assumes you have already completed the Standard and Fearless challenges. If you haven't already, the same recommendations apply. Bring someone to collect the monsters to speed up the process. The suffering begins when you unlock Extreme.
Special Rules:
Opponent's HP and ATK are increased; it goes into the Revival phase faster
Limited to 3 Dissonances
Its ATK will increase after 120s, and continues to increase for each 40s passed
Team suggestion: 
Dissonance: Gentle Lead
Food: Jade Parcels, Golden Crab, Sticky Honey Roast, Streaming Essential Oil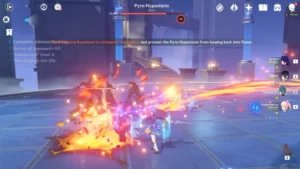 The goal here is to quickly break the Pyro seeds whenever they're up with either Yelan's or Xingqiu's burst, while also providing enough energy for those who are up for directly hitting the Hypostasis. When the boss becomes vulnerable, always activate Dissonance before using Raiden or any of the other bursts.
If you have Ayato, his Burst can easily take out most seeds at once. But don't be afraid to use another Hydro app for those. If you take too long, your entire team will almost certainly fail.
Kokomi can't break the shields quickly enough on her own, and she's here for her healing rather than her application. Having said that, she's still a better choice than Barbara, but if you don't have Kokomi, you can go with the idol nun. If you don't have Yelan, Mona can break shields and dish out some decent damage on her own.
About Genshin Impact
Genshin Impact
Developer(s)
miHoYo
Publisher(s)
miHoYo
Producer(s)
Cai Haoyu
Composer(s)
Yu-Peng Chen
Dimeng Yuan
Yijun Jiang
Qian Ding
Xin Zhao
Engine
Unity
Platform(s)

Android
iOS
iPadOS
Microsoft Windows
PlayStation 4
PlayStation 5
Nintendo Switch

Release

Android, iOS, iPadOS, Windows, PS4
September 28, 2020
PlayStation 5
April 28, 2021
Nintendo Switch
TBA

Genre(s)
Action role-playing
Mode(s)
Single-player, multiplayer