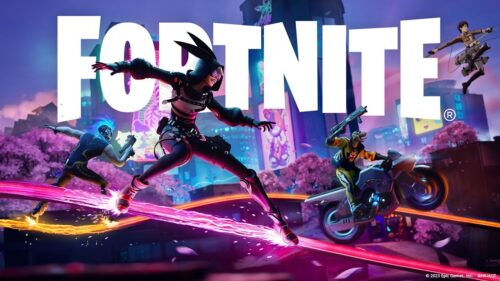 Fortnite Chapter 4 Season 2 is now available, and here are the patch notes detailing everything new to the battle royale game in this season.
Fortnite Chapter 4 Season 2 patch notes
New & returning weapons
This season will feature four new weapons, including:
Kinetic Blade: Melee katana with a standard slash and a special dash attack
Havoc Suppressed AR: A little quieter than other ARs, providing focused fire on enemies at medium to long range.
Havoc Pump Shotgun: A tighter-focused shotgun that provides high damage at close range
Overclocked Pulse Rifle: It looks like an energy rifle similar to other ARs in the game, and apparently it can only be found on a POI that rifts in.

There are also a number of returning weapons from previous seasons, whether they were vaulted or carried over. Among the returning weapons are:
Heavy Sniper Rifle
Cobra DMR
Dragon's Breath Sniper
Combat Shotgun
Heisted Breacher Shotgun
Heisted Explosive Assault Rifle
Heisted Accelerant Shotgun
Heisted Run 'N' Gun SMG
Heisted Blink Mag SMG
Maven Auto Shotgun
Red-Eye Assault Rifle
Twin MAg SMG
Tactical Pistol
Chug Cannon

New vehicles
As part of this season's update, two new vehicles have been added to the game: a new bike called the Victory Crown Rogue and a new four-seater car called the Nitro Drifter. Both have the ability to drift and use nitro to speed through the streets of Mega City.

New & returning Reality Augments
Reality Augments are one of the game's most popular new systems in a long time. These new Augments will give Shotgun players and loot spawns new bonuses. They are as follows:
Dumpster Diving: Loot spawns near you when leaving a hiding place.
Treasure Hunter: Nearby chests will be unlocked the first time that you enter a POI.
Slap Surplus: Find Slap Juice in every chest, with some chests having two
Munitions Slide: Get medium ammo by sliding.
Medium Ammo Amp: Weapons with medium ammo will have increased magazine size.
Shotgun Recycle: Weapons using Shotgun ammo have a chance not to consume ammo per shot.
Dignified Finish: Eliminations refresh the cooldown for the Kinetic Blade's dash attack.
There will also be some carry-over Reality Augments from Chapter Four, Season Two, and it appears that anything not listed has been vaulted for the time being. The following Augments are returning:
Light Fingers
Sniper Surplus
Aerialist
Chug Gunner
Jelly Angler
Bloodhound
Shadow Striker
More Parkour
Keymaster
Legendary Slurp Juice change
Slurp Juice is now a Legendary-rareity item in Chapter 4 Season 2, restoring a large amount of Health and Shield quickly. At the same time, it restores Health and Shield. You can find it from Keycard-requiring Vaults, a POI rifting in, or "Combat Caches."
Map changes 
A completely new biome has been added to the map, with teal-colored grass, cherry blossoms, and neon lights from the Mega City POI. Players will be able to get around quickly in the large city by using the various rails scattered throughout the game. The city isn't the only significant POI on the island; four new locations have been added to the island's southeast.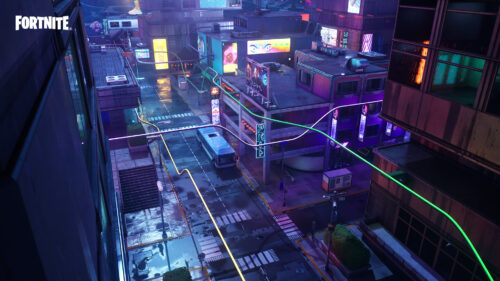 New battle pass
Epic revealed all of the battle pass skins from this season, including Eren Jaeger's secret skin. They are as follows:
Renzo the Destroyer
Imani
Thunder
Mystica
Stray
Highwire
Mizuki
Eren Jaeger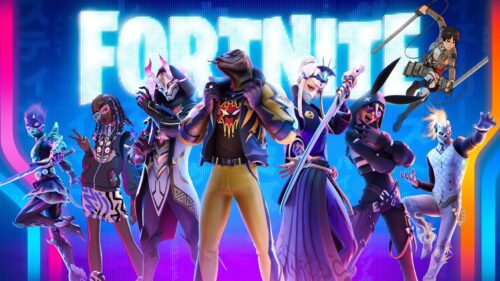 Competitive Changes
As with every season, a few items will be missing from the Competitive modes at the start of the season due to balance issues. This season, they are as follows:
Heavy Sniper Rifle
Heisted Exotics
Chug Cannon
Sniper Surplus Reality Augment
Chug Gunner Reality Augment
Victory Crown Rogue bike
Nitro Drifter Car
Legacy operating system support changes
Epic Games has been clear about this change for months, saying that players with versions of Windows before 10 won't be able to play Fortnite on PC anymore. It hasn't said why this change is happening, but many people think it has something to do with Unreal Engine 5 or an upcoming program or feature that will conflict with it.
Players who do not have access to a computer with an up-to-date operating system can still play the game by streaming it via cloud services such as Xbox Cloud Gaming or NVIDIA GeForce NOW.
That's all the changes we've known so far from the Fortnite Chapter 4 Season 2 patch notes.
Related: