OnlyFans star and Baywatch icon Donna D'Errico stripped completely naked for an Instagram snap.
Donna D'Errico causes a frenzy when she poses in a revealing 'birthday suit' photo
The American actress and Playboy model posted a very cheeky story to her Instagram account.
Donna posed topless in her kitchen, exposing her sideboob while covering her nipples with her free arm. She held a mug in the other.
Donna opted to go without underwear for the photo, so fans got a glimpse of her bare bum through her nearly see-through pair of cream-colored yoga pants.
Donna pulled her dark hair back into a high ponytail, revealing her tanned shoulders and upper back.
Donna wore a half hoop daith piercing that sparkled in her ear, a light dusting of grey eyeshadow, and a swipe of pale pink lipstick to accentuate her full lips.
Using a link to her OnlyFans page, the celebrity wrote: "It's my birthday month so here's me in half my birthday suit. #LinkInBio."
Followers went crazy over the revealing photo and gushed over Donna's youthful beauty in the comments.
An individual wrote, "I love you Donna!" as someone else added, "FIT!"
Donna also posted a retro photo of herself and Mark Hamill with the caption exciting film news to share with eager fans!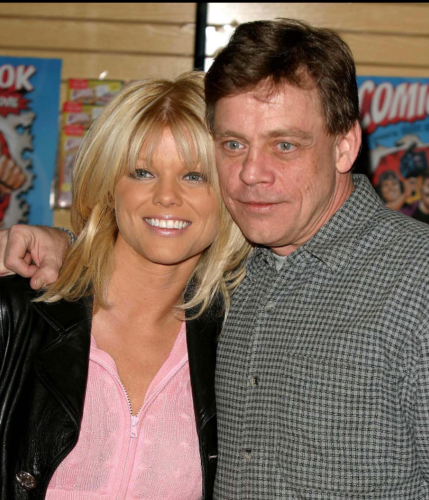 "It's the 20 year anniversary of my film #ComicBookTheMovie with @MarkHamill (he also directed it) and I've just been told it's getting a re-release this summer."
She couldn't help but share another throwback photo of herself wearing knee-high white lace-up boots with a chunky platform heel, while the Baywatch icon went for a classic white strappy skater dress that stopped just below the knee.
The simple dress with the plunging neckline made many people very excited.
Donna's blonde hair is still visible in the photo, and she has applied a bright pink lip gloss to her pout for the sake of the camera.
She put a caption on the sizzling post: "I really loved those boots!"
READ ALSO: