The first set of Player of the Month cards is almost here, and the FIFA 23 POTM Gakpo SBC solution is likely to be one of the most desired. Player of the Month cards in FIFA are some of the best to target early in the game because they usually get a double inform boost and can be very powerful for the price. So, if you want to know our FIFA 23 POTM Gakpo SBC solution prediction , keep reading.
FIFA 23 POTM Gakpo SBC Stats Prediction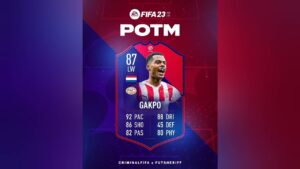 As seen in the image above, the predicted stats attached to the leak appear to be very desirable, making Gakpo an even more lethal winger.
Even if he just added a plus two to all of his inform's face stats, he'd have 92 pace, 86 shooting, and 88 dribbling, allowing him to play anywhere on the forward line. EA could even be a little more generous, giving him slightly higher shooting, making him a must-complete SBC even if you don't currently have plans for a Dutch team or hybrid.
Another factor to consider is a potential skill move or weak foot upgrade, which has been rumored for many POTM cards. Gakpo currently has four stars for both, so it doesn't appear that any upgrades would benefit him greatly, but gaining five stars for either his weak foot or his skills would significantly increase demand.
POTM Gakpo SBC Objectives & Price Prediction
The league is the primary determinant of the FIFA 23 POTM Gakpo SBC solution's overall cost and difficulty. If a player comes from a less desirable league with fewer "meta" cards, it is more difficult to link them at full chemistry. As a result, the demand for and price of the card are accordingly low.
However, with FIFA 23 Ultimate Team's new chemistry system, linking in a player like Gakpo may be easier. Gakpo can now obtain chemistry points from teammates on the national team in all five of Europe's top leagues due to the elimination of proximity-based chemistry.
However, we don't think his price will be too high, especially considering his inform card from FIFA 23 TOTW 1, which is currently selling for around 18,000 Coins on the transfer market. Given that the POTM card will give Gakpo a plus two rating boost, bringing him up to 87, we estimate that his SBC will cost between 30,000 and 35,000 Coins.
If higher rated cards become more popular as a result of the demand for the FIFA 23 POTM Rashford SBC solution, this could potentially push the price of this SBC above what is reasonable.
However, you can expect Dutch and Eredivisie players to be required, along with squad ratings between 83 and 84, for the SBC objectives.
That brings us to the end of our FIFA 23 POTM Gakpo SBC solution prediction. I hope you found this article helpful.