AJ Bunker, a contestant on the current season of the ITV show, has spoken out against it, citing the "lack of diversity" in the winter line-up and the absence of Asian stars as examples.
ITV's new show has been criticized by ex-Love Island star AJ Bunker for its "lack of diversity"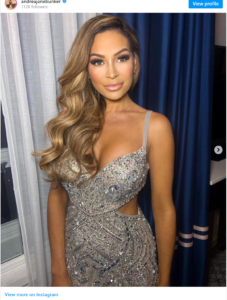 You can read also: Ron Hall and Lana Jenkins are favorites to win Love Island after being paired on the premiere
The 30-year-old reality star, who competed on the 2021 season that Millie Court and Liam Reardon won, has now criticized the show for its lack of diversity in its casting.
Andrea-Jane AJ wondered aloud, "Where's the Asian representation again?" Where are my people, I mean? Former Islander Billy King said, "Look, I'm going to be honest, the line-up looks amazing, they're beautiful, and they look fun.
She elaborated,"In my season they put me and Sharon [Gafka] in, which was good. But I feel like every line-up there's just not much representation for the Asian community."
According to AJ, who was also interviewed by The Mirror, "they didn't have any Asian people in the last season, not one throughout the whole of the show."
AJ continued, saying that until they begin casting more diverse line-ups, the popular ITV2 dating show will "always get stick."
She concluded, "It's just one of those things that annoys me, it's like producers are not learning from previous line-ups."
Priya Gopaldas, who like AJ has spoken out about the lack of diversity on reality TV shows like Love Island, also made an appearance on the show.
See more: Tanyel Revan of Love Island: "I'd love to have Piers Morgan round for dinner."
Priya told OK!, "I think we need more diversity on reality TV shows, especially Asian representation, more women of different sizes and more women who aren't cosmetically enhanced."
"I believe this would encourage young girls to aspire to be their natural selves."
On Monday night's premiere, viewers complained on social media about the show's lack of diversity, with one tweeting, "I'm absolutely not sold on any of these #loveisland they're all there for one singular reason and it ain't love. Also nice to see a bit of diversity…….oh wait."
Yet another questioned why Tanya was the only black girl in the villa, writing, "Why is tanya the only black girl in the villa…we need more diversity pls #LoveIsland" and a third said: "Low key disappointed at the lack of diversity in this years Love Island #LoveIsland."
Others have lauded the show for its promotion of diversity, noting that the show's cast has become more racially diverse in recent seasons. Three of the current contestants on the show are people of African descent.