One of the Love Island stars praised her fans for being "strong-minded." To her, Piers Morgan is the perfect dinner party guest.
Tanyel Revan gushes over the controversial TalkTV host and his interview techniques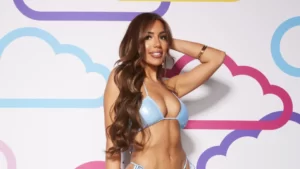 The North London hairstylist, 26, who will enter the villa for the upcoming winter series, told Radio Times that she has a lot of respect for Morgan, even when she disagrees with his arguments.
Revan said: "I can't lie, because I'm very strong-minded and I'm very direct, how he is."
In addition, she added: "I think why I like him is because I don't agree with everything he says either – just so everyone is aware of that.
"Like, I agree with some things, some things I really don't agree with. But I think where he's so direct, I appreciate that and respect it in a way."
Morgan has nothing but contempt for Love Island, which the host has dubbed "television's most moronic show."
Tanyel Revan emphasized that she and Morgan would have "not a date, but more like a conversation — an argument" if they ever met.
"I don't even know if I'd want to go in an environment like that but his show Uncensored, how he is on there is so interesting. Maybe something like that instead?
"I think we'd end up having a debate — arguing, agreeing and disagreeing and then I'd probably be tired sooner or later because you can't back down in an argument with him, it's just too much." She added.
On January 16th, Revan and nine other contestants will enter the show's winter villa in South Africa. There's a semi-pro rugby player, a farmer, and an actress who worked with Jason Statham before.
Maya Jama, who replaced Laura Whitmore as host of "Love Island," will make her television debut with this season.