Just one day after the premiere of the new season on Monday, Love Island favorites Ron Hall and Lana Jenkins have emerged.
Love Island's Ron Hall and Lana Jenkins are already considered to be among the favorites to win the competition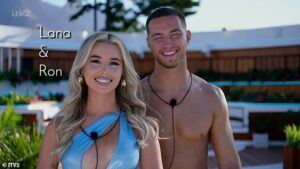 Betfair has the couple as heavy favorites to win the competition after their chemistry won over viewers in the premiere episode.
When Ron proposed to Lana in the pilot episode, she immediately accepted, and the two were quickly dubbed a "power couple" by viewers.
Before Monday's premiere, Ron's odds of winning were 20/1; after the episode, they dropped to 11/5.
Kai Fagan is in second place with 7/2, followed by Haris Namani at 4/1, Shaq Muhammad at 9/2, and Will Young in fifth at 5/1/.
At the same time, Lana has 13/5 odds of being the female winner, with Anna-May Robey following at 11/4.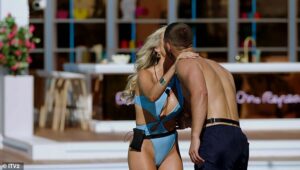 Tanyel Revan comes in at #4, followed by Tanya Manhenga in #5, and Olivia Hawkins in #3 with a 7/2 record.
Additionally, viewers made fun of 24-year-old Kai for saying "wifey for lifey" before dating three different women in the pilot episode's first coupling.
The semi-professional rugby player told Maya that he was in the South African villa looking for "the real deal," but show viewers quickly called him out for using the "cringeworthy" slogan.
During the premiere of Love Island, Ron and Lana were paired off, and then, at the episode's conclusion, a new bombshell was introduced to the villa that shocked everyone.
When Maya strutted through the villa ready to announce a new addition to the house, the islanders looked perplexed. Tom Clare, a semipro footballer, walked through the villa doors, and everyone was shocked.
As of last Thursday, viewers of the ITV2 show would be able to vote for either the first male or first female bombshell to enter the Villa.
Ellie Spencer, a 25-year-old Business Development Executive at a law firm in Norwich, and Tom Clare, a 23-year-old semi-professional footballer from Barnsley, were the two candidates up for public vote. Since Tom has now arrived at the villa, Ellie will have to wait until a later time to make her debut.
Tom came in and immediately started shaking things up, which was especially noticeable since the contestants had just paired off.