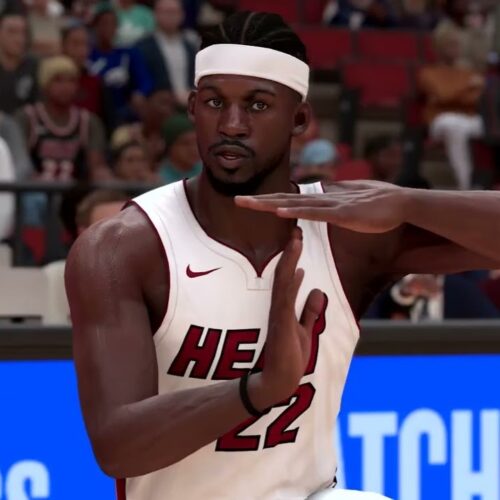 Controlling the paint can be a game-changer in NBA 2K24, and this guide will walk you through the creation of a Paint Beast build that excels as an Inside Center.
Dominate the Paint: NBA 2K24 Paint Beast Build Guide
Body Settings and Attributes
Paint Beasts are known for their offensive and defensive prowess, with a focus on the interior game. Here are the recommended attribute allocations for your NBA 2K24 Paint Beast build:
Acceleration: 56
Ball Handle: 35
Block: 87
Close Shot: 64
Defensive Rebound (focus): 93
Driving Dunk: 66
Driving Layup: 46
Free Throw: 58
Height: 7'0"
Interior Defense (focus): 88
Mid-Range Shot: 60
Offensive Rebound: 80
Pass Accuracy: 70
Perimeter defense: 44
Post Control: 39
Speed with Ball: –
Speed: 66
Stamina: 90
Standing Dunk (focus): 92
Steal: 34
Strength (focus): 99
Three-point Shot: 67
Vertical: 80
Weight: 245 lbs
Wingspan: 7'5"
Best Animations
Timing: Jonas Valanciunas
Player: Walker Kessler
Posterizations: Marcus Camby
Ball Handling: A+
Best Badges
Badges play a crucial role in defining your build's strengths. For the Paint Beast build, here are the recommended badges:
Tier
Badges
Description
S
Anchor (Silver)
Improve your paint defense.
Boxout Beast (HoF)
Excel in securing rebounds and positioning in the paint.
Brick Wall (HoF)
Screen opponents effectively and drain their energy.
Bulldozer (HoF)
Control the ball efficiently against overpowering defenders.
Catch and Shoot (Bronze)
Boost your jump shot accuracy after receiving a pass.
Chase Down Artist (Gold)
Increase your chances of getting chase-down blocks.
Pogo Stick (Gold)
Recover and jump higher after landing.
Rise Up (Gold)
Dunk with ease when you're beneath the basket.
A
Aerial Wizard (Gold)
Improve your ability to finish lobs and putbacks around the rim.
Green Machine (Bronze)
Receive a bonus for consecutive successful releases.
Post Lockdown (Gold)
Defend post moves efficiently.
B
Immovable Enforcer (HoF)
Become stronger against ball handlers and finishers.
With this guide, you'll be well on your way to creating a dominant Paint Beast in NBA 2K24. Take control of the painted area, unleash thunderous dunks, and become a force to be reckoned with on the court. Your opponents won't know what hit them when you bring your Paint Beast to the game!
Related: