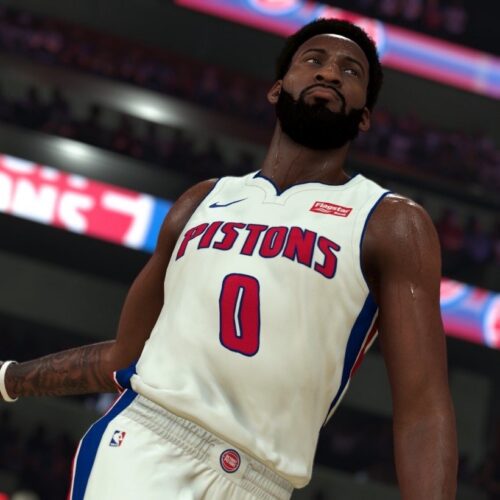 In NBA 2K24, Centers are the linchpin of any team, and the right build can make all the difference. In this guide, we'll walk you through the best Center build for NBA 2K24, equipped to handle every aspect of the game.
Best Center Build in NBA 2K24
Our top pick for the best NBA 2K24 Center build is a versatile 7-foot-1 powerhouse. This build combines surprising speed, exceptional dribbling, and stellar shooting, making it ideal for The City or MyPlayer modes. It's a jack-of-all-trades, allowing you to seamlessly transition between offense and defense while netting some incredible shots along the way.
Body Attributes
Height: 7'1″
Weight: 231lbs
Wingspan: 7'6″
Skills Attributes
Defense
Interior Defense: 77
Perimeter Defense: 66
Steal: 60
Block: 92
Offensive Rebound: 62
Defensive Rebound: 92
These attributes make you a formidable force on the defensive end, excelling in rebounding and shot-blocking. The Gold Anchor perk further enhances your defensive prowess.
Finishing
Close Shot: 77
Driving Layup: 76
Driving Dunk: 80
Standing Dunk: 75
Post Control: 85
With this build, you can power through contact dunks effortlessly due to your imposing physical presence.
Physical:
Speed: 64
Acceleration:  57
Strength: 84
Vertical: 75
Stamina: 98
Your physical attributes allow you to thwart attacks and transition swiftly.
Playmaking
Pass Accuracy: 75
Ball Handle: 63
Speed with Ball: 56
While these stats may seem low, they provide a well-rounded skill set suitable for all game modes.
Shooting
Mid-Range Shot: 86
Three-Point Shot: 80
Free Throw: 63
This Center build offers impressive shooting potential, making you a versatile shooter from virtually anywhere on the court.
So there you have it – everything you need to know about creating the ultimate Center build in NBA 2K24. Whether you're a fan of slam dunks, lockdown defense, or three-pointers, this build has you covered. Dominate the court and lead your team to victory with this well-rounded NBA 2K24 Center build.
Related: