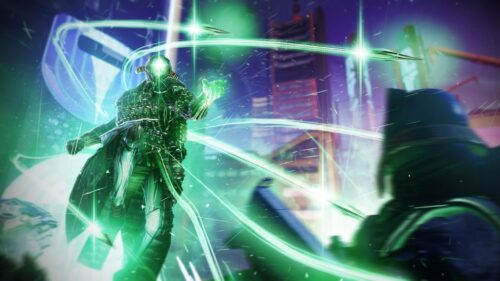 This guide will show you how to obtain the Prodigal Return and what the god rolls for this gun are in Destiny 2. Continue reading for more information.
How to get Prodigal Return in Destiny 2
There are several ways to obtain Prodigal Return. The first is to complete the new Defiance Battlegrounds activity and open the chest at the end with a Defiant Key. Opening this chest always results in a piece of Season of Defiance gear, which can also be a Deepsight variant.
You can also focus your War Table engrams into Season of Defiance gear. At the moment, players can't use these engrams to focus on only Prodigal Return. However, if you unlock the Defiant Weapon Focusing upgrade next week, you'll get this feature.
Finally, you may be able to obtain this weapon as a reward for completing seasonal story content.
Prodigal Return God Rolls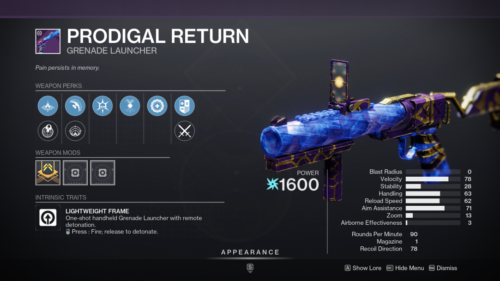 PVP God Roll
Confined Launch
Proximity Grenades
Shot Swap
Harmony or Danger Zone
Confined Launch will increase our weapon's stability and blast radius, while Proximity Grenades make it easier to land hits with Prodigal Return. Shot Swap is our first primary perk, as it enables us to quickly fire, kill an enemy, and switch to a different weapon.
I suggest placing either Harmony or Danger Zone in the final slot. Harmony is ideal for those who want to increase the weapon's damage and handling after a kill, while Danger Zone is ideal if you're not as accurate with this gun due to its increased blast radius. Both options are viable, so the choice comes down to individual preference.
PVE God Roll
Quick Launch
Disorienting Grenades or Spike Grenades
Envious Assassin
Voltshot or Demolitionist
I'm using Quick Launch in the first column to increase the velocity of the projectiles as well as our handling speed. You'll need either Spike or Disorienting Grenades for the next column. Spike Grenades work better with Voltshot because you want to kill the enemy to activate the effect, and Disorienting Grenades are always a good choice — especially for endgame content.
Envious Assassin is my first choice for primary perks. When you get quick kills with any other weapon, this new perk will overflow the magazine.
In the final column, you will need either Voltshot or Demolitionist. Personally, I prefer the former, but Demolitonist can be quite dangerous when combined with a grenade-focused build.
That concludes our Destiny 2 Prodigal Return guide.
Related: