After the Dodgers declined to tender star outfielder Cody Bellinger last week, the former MVP became a free agent.
According to an MLB insider, the Blue Jays are the top destination for free agent outfielders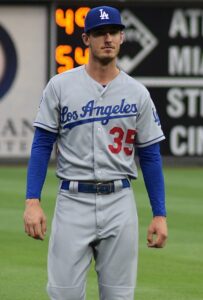 His agent, Scott Boras, has noted that they have multiple multi-year offers on the table, but they are more likely to go with a one-year deal in the hopes of rebuilding his value and bringing home a better contract next offseason.
Baseball insider Jon Morosi appeared on MLB Network on Monday and discussed one team he believes will be heavily invested in Bellinger.
"I will be somewhat surprised if the Toronto Blue Jays do not sign either Bellinger or Brandon Nimmo. There is such a strong need for this team to get an athletic, left-handed hitting center-fielder that you got now these two players on the market."
"Obviously, Bellinger has his flaws, very little has gone right for him, to your point, since he injured his shoulder celebrating that memorable home run in Texas back in the 2020 National League playoffs. And so, with Bellinger, it's a matter of getting that shoulder sound again. …"
"Scott Boras has said to Ken Rosenthal there's a belief that by strengthening the shoulder, changing the training regimen that he's got around that shoulder joint, that he's gonna be able to be a little bit closer to that 2019 version of his production. And the virtue of him being so young, and Scott Boras told Ken this, is that having the one-year deal is appealing. Go out there, prove that you can still do it, post some great numbers … for one year, then go back out on the free agent market a year from now."
"And I would say this: There are few venues, both because of the quality of the lineup and the hitter-friendly nature of the ballpark, that are more conducive to that approach than the Toronto Blue Jays and Rogers Centre. … If they can't get Nimmo, it's a nice, quick pivot to a shorter-term possibility in Cody Bellinger."
What's the market for Cody Bellinger?#MLBNHotStove | @jonmorosi pic.twitter.com/GOY6TIGFXH

— MLB Network (@MLBNetwork) November 21, 2022
You can read also: Aaron Judge Trade: The SF Giants Make an Offer to the Yankees?
The allure of a good hitters' park is comprehensible, but Boras knows that Bellinger's market next offseason will be decided much more by his underlying numbers than by his home run totals.
Teams will not be fooled by artificially inflated Rogers Centre numbers if Belli's bat speed does not recover to allow him to catch up to the high fastball and help his exit velocities bounce back to pre-injury levels.
And if his bat speed improves, he'll put up big power numbers whether he plays in Toronto or the Grand Canyon.
However, Morosi's points about the Blue Jays' need for a center-fielder are valid, so they make sense as a suitor.
And, while they may not have the advantage he claims due to their stadium, their real advantage would be a willingness to give him the contract he desires, which they may do.