The reigning American League MVP, a Linden native, was in San Francisco to meet with Giants officials as he considers his free agent options.
What decisions did Aaron Judge make regarding his future?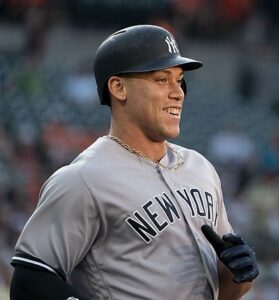 One of the most important days in recent San Francisco Giants history unfolded behind closed doors and tinted windows on Tuesday.
Aaron Judge happened to be in town. Three weeks into free agency, a few days before Thanksgiving, and presumably on his way home to small Linden, about two hours east, for the holiday, it was the Giants' turn to make their pitch to the reigning American League MVP, who hit an AL record 62 home runs last season.
It is believed to be a two-way race.
Judge has the option to re-sign with the Yankees, who drafted him out of Fresno State, and possibly have his No. 99 enshrined in Monument Park one day.
Or, as Giants brass likely tried to convey in a marathon session Tuesday, he could live out a made-for-Hollywood script as the hometown hero and savior.
He could also surprise everyone.
Any team that signs him is expected to give him a contract worth more than $300 million.
According to reports confirmed by the Bay Area News Group, Giants officials, likely led by chief executive Larry Baer and president of baseball operations Farhan Zaidi, hosted Judge for the entire day. Zaidi previously stated that "from a financial standpoint, nobody would be out of our capability to meet what we expect the contract demands to be." Before this season, Judge turned down a $213.5 million offer from the Yankees.
About a dozen people gathered outside the St. Regis early Tuesday morning, hoping to catch a glimpse of the free-agent slugger.
His arrival in the city sparked concern among fans on social media Monday evening, when MLB Network posted a video of him checking into a swanky Financial District hotel.
When asked what his plans were, Judge replied, "just visiting some family and friends, that's about it," before winking.
One savvy autograph seeker alternated between wearing a Yankees cap and a Giants shirt.Another group of Giants fans stood across the alleyway from the hotel entrance, hoping for an autograph, but when asked, they said they'd rather Judge sign a contract in San Francisco than their baseball cards.
After falling short in their pursuits of Bryce Harper (who reportedly turned down a reported $310 million offer) and Seiya Suzuki (who reportedly preferred to live in Chicago over San Francisco), Zaidi explained the Giants' efforts to court local players like Joc Pederson and now Judge.