In Call of Duty: Modern Warfare 2's DMZ mode, a new money glitch has been discovered that allows players to deceive the game into awarding them well over $1m in-game currency. How long will this bug be around? Continue reading to learn more.
What is the DMZ money glitch in Modern Warfare 2?
There is a Bug in DMZ that if money is close to a floor weapon it gives you Max Cash while trying to Stow the Money. Max ends up being $1.3M.

Not sure if this works in BR though. Also, Can max level 2 weapons per Match. pic.twitter.com/8uajNKI0xU

— James – JGOD (@JGODYT) November 26, 2022
Players have exploited the DMZ money glitch by tricking the game into thinking you're picking up money while stowing a gun as one of your weapons.
If completed successfully, the DMZ money glitch will grant players access to over $1.3 million in cash. That is the most that players can get in a single map, and it should be far more than what is realistically achievable.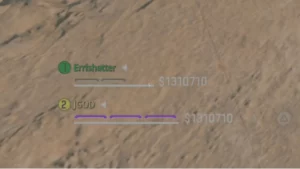 This glitch appears to be easier to perform when the Kastov-74u weapon is used as the gun being picked up. After testing, we discovered that this glitch is only available in the DMZ mode.
Why is it a problem?
This exploit has a significant negative impact on the game's leveling system.
In Modern Warfare 2, players share a Military Rank across all modes. Weapon leveling is also available in all game modes. When players buy anything from DMZ buy stations, they gain XP. Almost anything. As a result, players may use the money obtained from the glitch to buy stations and fully level up two separate weapons in a single DMZ map by spam-buying armor plates.
This would lead to an imbalance among players. It will also be extremely frustrating for players who have legitimately grinded their way to fully leveled weapons.
Although it is unlikely that Infinity Ward will take action against accounts that complete the glitch, there is also no guarantee that they will not. The developer will almost certainly be able to determine which accounts have done it.
How long will the bug remain in place? Only time will tell, but we advise you to stay away from this glitch in order to keep your account safe