A recent leak allegedly revealed the human form of Cloud Retainer in Genshin Impact. What do we have? Let examine it.
Cloud Retainer Human Form revealed by Genshin Impact Leak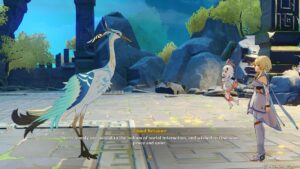 Trusted leaker Therallo recently posted what appears to be the human form of Cloud Retainer on a "Genshin Impact" Discord server, which was then posted to Reddit. Cloud Retainer is a quest-exclusive Adeptus NPC who can be found on the summit of Mt. Aocang in Liyue. This Adeptus resembles a white crane with blue feathers and gold markings. This design appears to be carried over to their human form, as she is seen wearing blue clothing and a gold hairpiece. Surprisingly, the character is shown with and without glasses.
Shortly after the leak, more information about the character surfaced, as a user provided a more detailed description of the human form. They did, however, clarify that the character's release date is unknown. "It may be the next year Lantern Rite," they wrote. If this is true, players will have to wait at least a year to be able to add this character to their roster.
Nonetheless, gamers adored the human Cloud Retainer, with many commenting on how beautiful the artwork is. Many people were excited to see Cloud Retainer as a playable character. Players also hoped to be able to switch the character's glasses like in the artwork. And who knows, maybe this feature will be available once the game is released on Nintendo Switch.
About Genshin Impact
Genshin Impact
Developer(s)
miHoYo
Publisher(s)
miHoYo
Producer(s)
Cai Haoyu
Composer(s)
Yu-Peng Chen
Dimeng Yuan
Yijun Jiang
Qian Ding
Xin Zhao
Engine
Unity
Platform(s)

Android
iOS
PlayStation 4
Windows
PlayStation 5
Nintendo Switch

Release

Android, iOS, PS4, Windows
September 28, 2020
PlayStation 5
April 28, 2021
Nintendo Switch
TBA

Genre(s)
Action role-playing
Mode(s)
Single-player, multiplayer