Cher wore the diamond ring that her much younger boyfriend Edwards had given her on a Thursday night out in Los Angeles.
Cher, 76, flaunts a diamond ring that was given by her 39-year younger boyfriend Alexander 'A.E.' Edwards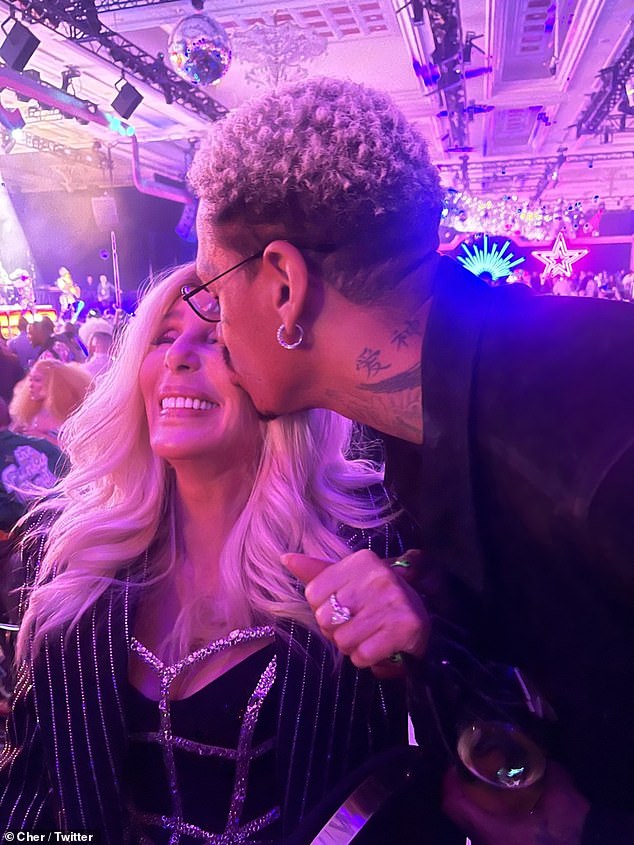 The 76-year-old icon wore a green windbreaker, snakeskin boots, and flared blue jeans.
She debuted the sparkler on New Year's Eve, when she was shown on Twitter getting a kiss from her 37-year-old boyfriend.
The two only recently made their red carpet debut, with the relationship's age gap becoming public knowledge in the month of November.
This month, Alexander confirmed that he and Cher have already met each other's children and that they are reportedly working on music together.
On Thursday night, a mystery woman was seen adjusting Cher's face mask onstage.
Cher was spotted with a large pair of sunglasses on her face, peering out from behind a black leather purse.
With her friend by her side, she was casually strolling through the parking garage toward the nearby building.
Cher received the ring from Alexander on Christmas Day, December 25. Alexander tweeted a photo of the ring shortly after.
Singer of "I Got You Babe" tweeted, "THERE R NO WORDS, ALEXANDER, A.E." along with a picture of the diamond ring still in its packaging.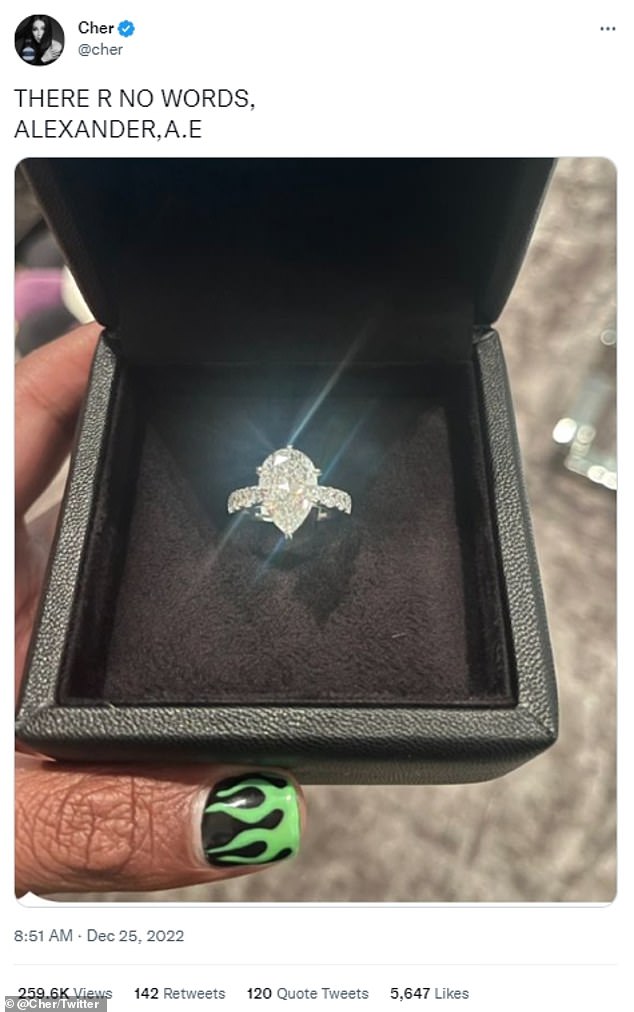 People quickly heard that they were getting married.
People heard from someone close to Cher and Alexander that they are "very much in love" but are still taking things slowly.
'They're not talking marriage or anything like that, but they are exclusive and serious,' the insider dished.
Cher is out and about in Los Angeles, California, a week to the day after attending the star-studded Versace fashion show with the dashing music producer.
As a result, they were able to rub elbows with the likes of Miley Cyrus and Lily James.
Cher and Alexander gave the media a full display of their PDA by kissing and making out in front of the cameras on the red carpet.
READ MORE: