The former star of Geordie Shore, who is now 27 years old, snapped a quick selfie in the mirror while she was wearing a provocative leopard print sports bra.
Chloe Ferry bares her tiny waist in a leopard-print sports bra and skintight leggings during a workout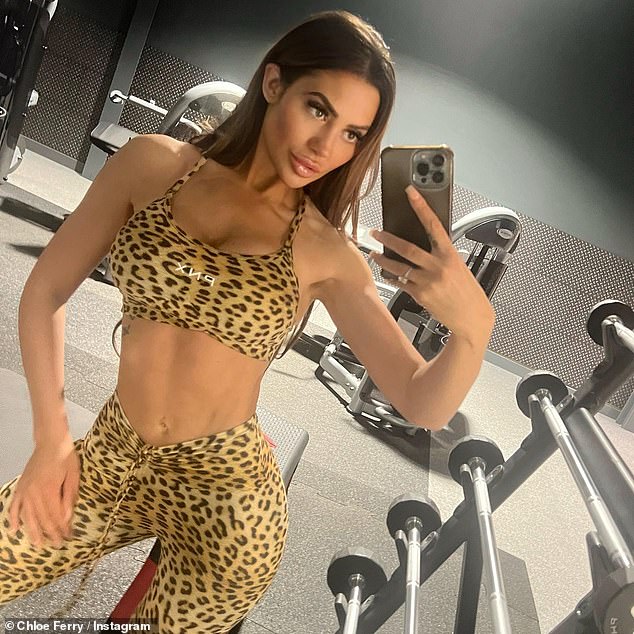 On Thursday, after finishing her workout, Chloe Ferry flaunted her trim waist.
She paired the top with matching skintight leggings that ruched just below the belly button.
Chloe posted a picture of her toned abs on her Instagram Stories, demonstrating that all her hard work had paid off.
Her straightened, brunette hair cascaded down her back, and she finished the appearance with a swipe of lip gloss.
Chloe had previously updated the situation about the burglary at her own beauty salon, saying that the police are now involved and that she has identified the perpetrators.
She described her "scary encounter," adding that she was concerned a member of staff might have been present.
Chloe mentioned the incident, saying that despite the fact that the stolen items were "replaceable," the whole thing was terrifying.
She and her friend Maeve founded CM House of Aesthetics in Newcastle in 2019.
Chloe commented on the burglary, saying, "Imagine if one of the girls would have been in the salon. The girls were late so it's just traumatising isn't it."
She went on to say that  "Everything has been handled by the police and everything, we know who the people are."
"We found out as we watched the footage and we found out that it was just two people. We don't know who they were but we know like their names."
She and Maeve had been working out at the gym when they heard the news of the break-in earlier this month.
Chloe took to Instagram to vent her anger after discovering the salon she co-owns had been broken into when she was at the gym late at night.
When asked what was wrong with people, she told the camera that the thieves had taken "everything" from the salon. You've made off with our entire supply.
Chloe, unable to contain her wrath, raged on, saying she would find out who broke into the salon and "plaster you all over my social media" if they were responsible.
Chloe posted a photo of the vandalism on Instagram, which consisted of a damaged back door.