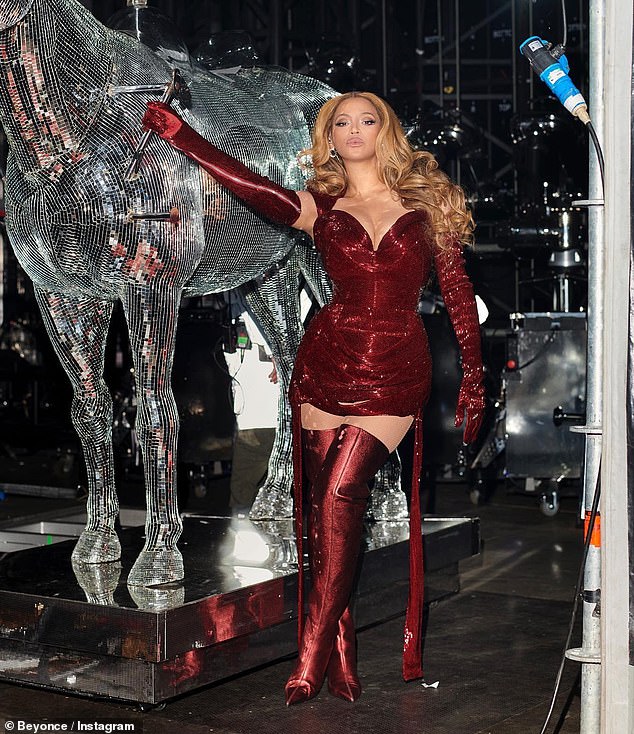 Beyonce wowed London with another mind-blowing performance, this time in a shimmering burgundy minidress that showed off her fantastic body.
Beyoncé does another stunning performance while wearing a sequined burgundy minidress

The 41-year-old superstar ruled the stage in a revealing dress, gloves, and knee-high boots.
Beyoncé changed into many other eye-catching outfits besides her burgundy costume, including a scarlet bodysuit, a futuristic leotard, and a psychedelic minidress.
The 32-time Grammy winner began her run of London appearances on a Monday night and has already wowed her large fan following.
As part of her massive Renaissance world tour, she is currently playing at Tottenham Hotspur Stadium till June 4.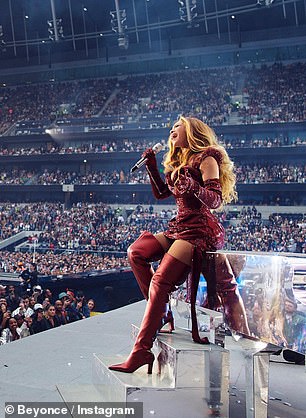 The legend has wowed audiences with a set list that includes some of her most well-known hits—from "Love On Top" to "Formation"—and an astonishing collection of designer clothes.
For her week-long run of London gigs, she reportedly employed 12 seamstresses to work backstage on her elaborate ensembles.
The singer reportedly pays them tens of thousands of dollars to alter and repair her existing wardrobe as well as create entirely new pieces.
"Beyoncé has recruited all of the best seamstresses in London," the person said. Her wardrobe team is larger than that of many famous fashion houses.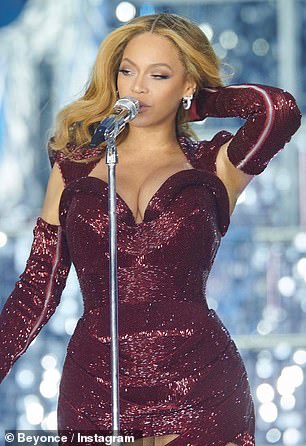 The expense of her tour is in the tens of thousands, but she is willing to spend that much on the spectacle that is her wardrobe changes.
Beyonce's eldest kid, Blue Ivy, joined her onstage on her first night in London, sending the crowd into a frenzy.
The Crazy In Love singer was spotted at the Tottenham Hotspur stadium singing and dancing with Blue Ivy, 11.
Jay-Z, her husband and Blue Ivy's father, was in the crowd, beaming with pride. Other notable attendees included Kris Jenner and Dua Lipa.
Beyonce radiated maternal pride as she watched her daughter Blue Ivy sing to "Alright" by Kendrick Lamar.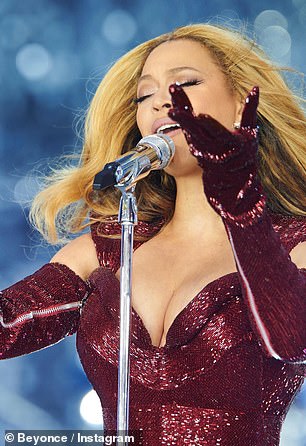 When Beyonce performed "My Power" in Paris, her eldest daughter Blue Ivy joined the professional dancers onstage.
Fans can expect to hear several of her top hits, including Formation, Run the World (Girls), and Love on Top, among many others, when she performs her whole set.
Dangerously in Love is the first song Beyonce performs live at her performances, followed by Flaws and All and 1+1.
Next, she performs a stunning rendition of I Care/I'm Goin' Down, originally made famous by Mary J. Blige, before moving on to fan favorites such as I'm That Girl, Cozy, and an Alien Superstar/Sweet Dreams medley.
Haunted, Diva, Crazy in Love, Drunk in Love, Black Parade, and Partition are just some of the songs that Beyonce performs during her massive 40-song repertoire.
The crowd-pleasing songs Blow and Summer Renaissance round out her set.
READ ALSO: