New submachine guns (SMG) continue to dominate in close-quarters situations in the Call of Duty franchise. This time it's the fan-favorite MP7 SMG, renamed VEL 46. It's already a popular choice, so here are all of the attachments and Perks you'll need to create the best MW2 VEL 46 loadout.
Best MW2 VEL 46 MP7 loadout attachments
Muzzle: SA Schalldampfer 99
Laser: Point-G3P 04
Stock: VEL A-568 Collapsed
Underbarrel: Merc Foregrip
Rear Grip: ZLR Combat Grip
This set of attachments ensures a quick time to kill and fast movement speed, making it very easy to navigate the map. We'll start this VEL 46 MP7 loadout with the SA Schalldampfer 99 Muzzle, a suppressor that improves the weapon's bullet velocity and recoil control — both of which are important in any loadout.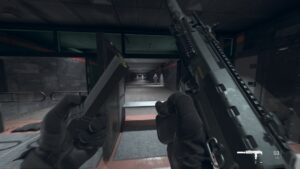 The combination of the Point-G3P 04 Laser, Merc Foregrip, and VEL A-568 Collapsed Stock comes next. All of these attachments work together to improve the MP7's hip-fire accuracy and sprint-to-fire speed, allowing you to hit targets before your Operator has fully aimed in.
The VEL 46 is still quite bouncy, so the ZLR Combat Grip will give you a little more range, but keep in mind that this is still primarily a close-range weapon.
Overall, this build is ideal for close-quarters combat, but it's important to be aware of its damage drop-off when engaging in a long-distance duel.
Best Modern Warfare 2 VEL 46 equipment and perks
Equipment
Semtex (Lethal)
Stun Grenade (Tactical)
Perks
Bomb Squad (Base)
Double Time (Base)
Fast Hands (Bonus)
Quick Fix (Ultimate)
While we haven't found the best attachments for the VEL 46, we can recommend a variety of perks and gear that will allow you to deal more damage throughout the game.
Semtex is ideal for clearing out rooms or objectives, and Flash Grenades will temporarily blind the enemy while providing valuable information.
For Perks, we recommend the tried-and-true combination of Bomb Squad and Battle Hardened. Grenades and flashbangs are extremely powerful in this game, so using them together is critical for achieving high Killstreaks.
Next, Fast Hands will allow you to reload the VEL 46 MP7 much faster, compensating for the lack of an extended mag. Then, after each fight, Quick Fix will replenish your health.
Is the VEL 46 good in Modern Warfare 2?
In Modern Warfare 2, the VEL 46 is an outstanding SMG. Its close-range prowess, combined with its quick sprint-to-fire time, makes it very easy to make an impact during a match. At the moment, it can compete with the popular Lachmann Sub.
How to unlock VEL 46 MP7 ?
Fortunately, you won't have to do anything to unlock the this weapon in Modern Warfare 2 because it will be unlocked automatically at the start of the game. Simply reach Level 3 to use the Gunsmith, and then follow our leveling guide to unlock all of the attachments to create the best VEL 46 loadout.
About Modern Warfare 2
Call of Duty: Modern Warfare 2
Developer(s)
Infinity Ward
Beenox (Remastered)
Publisher(s)
Activision
Director(s)
Jason West
Producer(s)
Mark Rubin
Designer(s)

Todd Alderman
Steve Fukuda
Mackey McCandlish
Zied Rieke

Artist(s)
Richard Kriegler
Writer(s)
Jesse Stern
Composer(s)
Hans Zimmer
Lorne Balfe
Series
Call of Duty
Engine
IW 4.0
Platform(s)

Microsoft Windows
PlayStation 3
Xbox 360
macOS
PlayStation 4
Xbox One

Release
Microsoft Windows, PlayStation 3, Xbox 360

macOS

Campaign Remastered
PlayStation 4

Xbox One, Microsoft Windows

Genre(s)
First-person shooter
Mode(s)
Single-player, multiplayer