Modern Warfare 2 players are now ecstatic about the in-game assets that have hinted at the inclusion of a Zombies mode. Will Infinity Ward bring back Call of Duty's classic mode? Let's find out.
Modern Warfare 2 zombies found in game files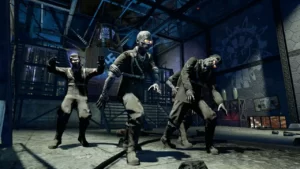 Call of Duty: Modern Warfare 2 is the franchise's latest FPS title, putting players in the role of a soldier on a mission. The series is well-known for its captivating single-player narratives as well as its intense online multiplayer modes. Zombies, another Call of Duty series staple, have yet to appear in a previous Modern Warfare game. This raises the prospect of Zombie files being included in MW2.
The developers have yet to announce the inclusion of Zombies in Modern Warfare 2, which appears unlikely given the developers' focus on Special Ops, DMZ, Warzone 2.0, and other projects. One player, however, drew the attention of fans to newly discovered playlist assets.
The files discovered contained references to game elements such as "Round Based Zombies" and "Outbreak," which appear to be related to Zombie mode. This is notable to fans of past Call of Duty games who've experienced these round-based Zombie matches for themselves.

This isn't a guarantee that zombies will appear in MW2, and it could simply be leftover code from development. Strangely, zombie code would be left over, especially since none of the previous Modern Warfare games included Zombie modes. The developers had to have known that data miners would eventually find this code, so it appears that removing it would be a priority. However, given that the game is expected to receive two years of support, such an addition may be made later.
Zombies has become an essential part of the Call of Duty franchise, with a devoted fan base wondering what the mode will do next. It would be surprising to see this entire community ignored, but we'll have to wait and see if zombies make an appearance in Modern Warfare 2.