We have chosen some of the best Minecraft skins that you can equip in the game right now. Whether you're a big gaming fan, a supehero lover or more of a TV person, there will be a Minecraft skin for you! Read on to find yours.
Best Minecraft Skins for gaming fans
Geralt of Rivia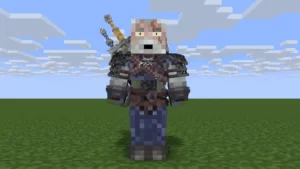 We'll never get tired of playing The Witcher games, so Geralt's Minecraft skin is a must-have for us and one of our personal favorite skins available in the game.
Yoshi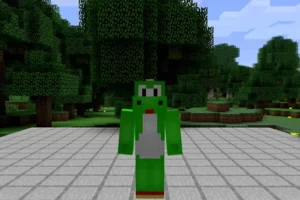 We could have used any number of Mario characters, including the moustached plumber himself, but let's give Yoshi a chance! This is just a fun-looking skin, and the green really makes it stand out, so it's our choice from the Mario universe.
Isaac Clarke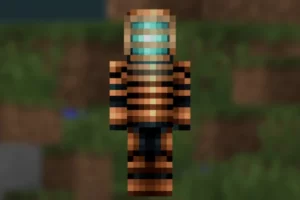 Isaac, the protagonist of the Dead Space series, has a pretty cool suit in that franchise. It also looks great when transported into the world of Minecraft!
Lara Croft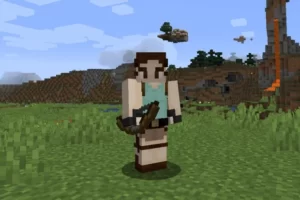 Every game, including Minecraft, needs a cool character like Tomb Raider legend Lara Croft. We don't appear to be getting any new Tomb Raider games anytime soon, so you might as well make some new adventures for Lara in the Minecraft world.
Link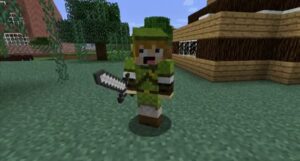 The wait for The Legend of Zelda: Breath of the Wild 2 may be lengthy, with a current release date of late 2022, so pass the time by incorporating Link into your Minecraft adventures.
Tetris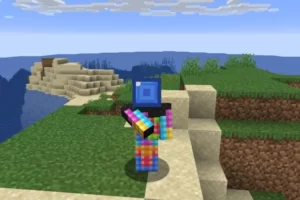 If you enjoy the game Tetris, this skin is a must-have. Even if you aren't a fan of the game, this skin is so fun and unique that you might want it anyway!
Best Minecraft skins for movie fans
Elsa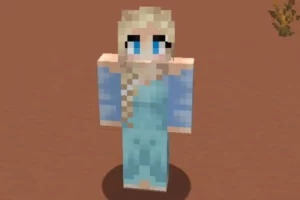 We couldn't make this list without mentioning at least one major Disney animated character, and while there are many to choose from, Elsa looks so good as a Minecraft skin that we couldn't help but include her!
Indiana Jones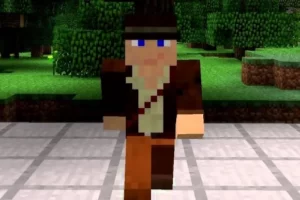 Harrison Ford, the Indiana Jones star, may have been injured on the set of the next film, but he is still fighting fit as a Minecraft skin. So, in the game, dress up as the man himself to make the wait for the next film a little less painful!
Pennywise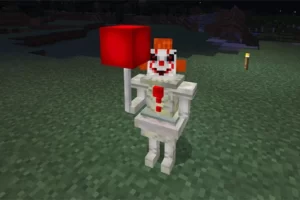 Yes, you can get a Pennywise skin and walk around Minecraft making everyone else uncomfortable. However, if you do decide that this is the skin for you, we recommend that you reconsider your life choices.
Shrek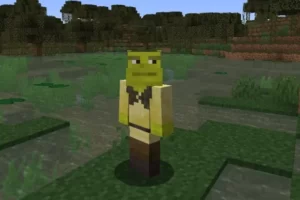 Shrek will take you out of the swamp and into the block-filled world of Minecraft. Just look at him! There is also a Donkey skin, but it does not look nearly as good as we had hoped, so we will always prefer Shrek.
Best Minecraft Skins for music fans
Ed Sheeran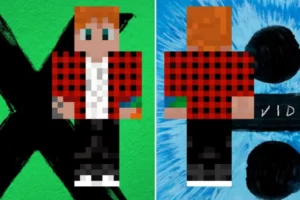 Until an official Ed Sheeran video game is released, this Minecraft skin is the best way for Sheeran's many fans to dress up as the musician in the gaming world.
Lady Gaga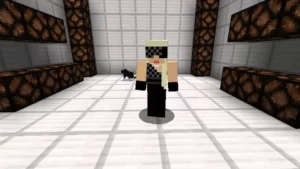 A quick search will reveal that there are a plethora of Lady Gaga skins in Minecraft for players to choose from, with nearly all of her famous fashion choices being adapted into the game by devoted fans from all over the world.
Best Minecraft skins for Star Wars fans
Chewbacca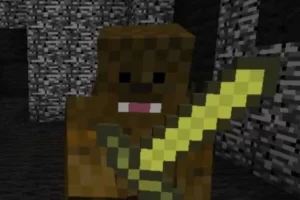 "WWWWWWWWWWGGGGHHHRRRRRRW" is Wookie for "Hey, I'm a Minecraft skin, and you should totally play as me." Okay, so it could just as easily mean that Chewy needs some water, but in any case, use the Chewbacca skin in Minecraft to play as one of the most beloved Star Wars characters of all time!
Lando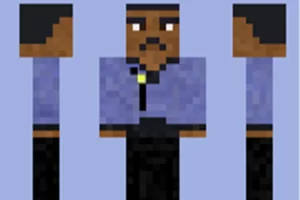 Lando was one of the best characters in the original trilogy, and we will hear no more about it. So, with this awesome skin, you can play as the legendary and classic Lando in Minecraft!
Jabba the Hut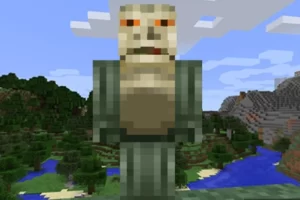 Another classic Star Wars character has arrived, this time the villainous Jabba the Hut! So, if taking on the persona of one of the most powerful space gangsters appeals to you, Jabba up and start playing.
Best Minecraft Skins for superhero fans
Deadpool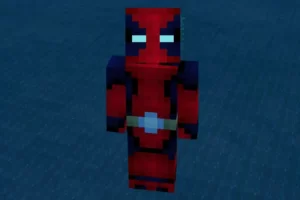 This skin was created by KingJohn01 and is a fantastic one to own because, well, it's Deadpool and he's one of the most iconic characters out there.
Wonder Woman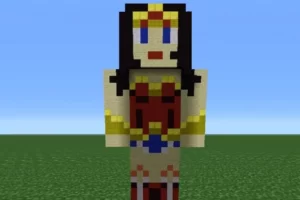 We adore seeing Wonder Woman's super suit in Minecraft form. If you're looking for some variety, there are a few different Wonder Woman skin variations to choose from.
Batman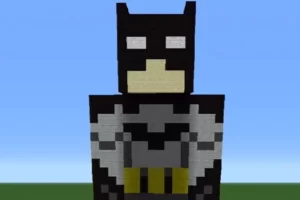 Get the Dark Knight himself as a skin for Minecraft and you will join many others who have done the same – it's one of the most popular skins available.
Iron Man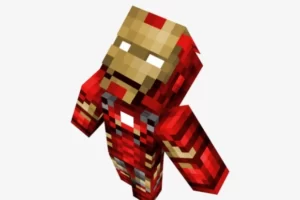 We love this skin 3000! If you're over the devastating events of Avengers: Endgame and ready to have some Iron Man back in your life, then this skin is for you.
Captain America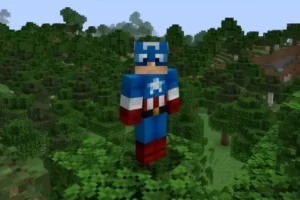 It may make Cap appear cute rather than a formidable warrior, but it's still a fantastic skin and another Avenger to add to the skin roster.
Thanos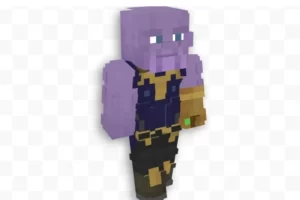 Let us conclude with Thanos, one of the world's biggest and baddest supervillains! The man with the ability to wipe out half of the universe is now a Minecraft skin, and he is our favorite.
Best Minecraft Skins for TV fans
Ash Ketchum
Although it is not possible to catch Pokémon in Minecraft, Ash Ketchum is not absent! If you're a fan of another pop culture icon named Ash, you can also get the Ash skin for The Evil Dead franchise!
Homer Simpson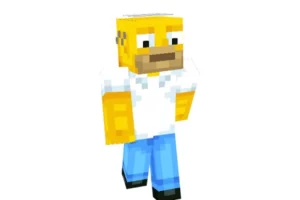 If you equip this skin, you can play as the lovable Homer Simpson in Minecraft! Grab a few cans of Duff beer and a tray of pink doughnuts! Skins for the entire Simpsons family, including baby Maggie, are also available.
Bob the Builder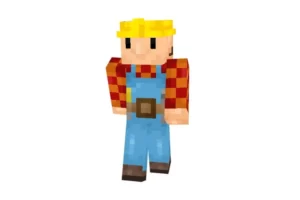 Bob is another skin available in the game that is appropriate for a game like Minecraft that involves a lot of building. Unfortunately, he does not take over all of the building for you and does not provide any additional skills, but if you're going to go around building things, you might as well do it while looking like Bob the Builder!
Kermit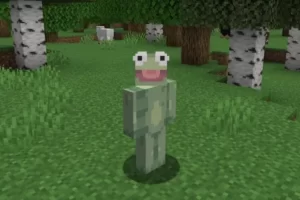 It's not easy being green, but it's simple to walk around the virtual world of Minecraft looking like Kermit the Frog! There are many muppets you can play as in Minecraft, but for us, it has to be Kermit – a true muppet legend if there ever was one.