In our Best Minecraft Desert Seeds list, we provide some of the most perfect Desert Seeds you can find. Give these seeds a try and build your own house.
Best Minecraft 1.18 & 1.19 Desert Seeds For Bedrock & Java
Bedrock 1.19
Desert Temples and Villages: 6245064415419240492
Bedrock 1.18
Desert Temple Village > Underground Villager House > Stronghold: -1891299974
The Expanse: 1432766570
Java 1.19
Clusters of Structures: 2814749802107550
Java 1.18
Desert Duel: -8499699871731677737
Life on a Deserted Island: 151879205
Best Minecraft Bedrock Desert Seeds
Desert Temples and Villages
Seed: 6245064415419240492
Key Locations
Village: 184 344
Desert Temple: 520 -360
Ancient City: 1672 904
Shipwreck: -72 40
Desert Temple: 232 888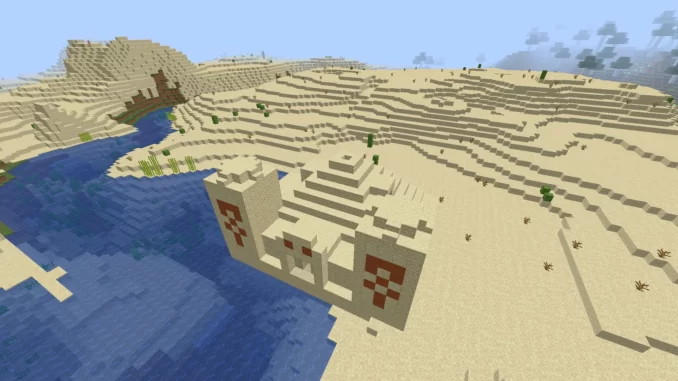 You begin in a vastly arid environment with a mixture of the Badlands and Desert biomes. One of the new biomes included in The Wilds update is the Mangrove Swamp biome, which is located a few hundred blocks away. At least five Temples and seven Villages can be found within 1,000 blocks of spawn, and there are dozens more within the first 5,000 blocks. Additionally, five Ancient Cities are close by where you spawn.
Desert Temple Village > Underground Villager House > Stronghold
Seed: -1891299974
Key Locations
Desert Temple/Villager/Stronghold: 2312 232
Village: 328 184
Jungle Temple: 1064 -440
Village: 1448 -360
Desert Temple: 1608 -264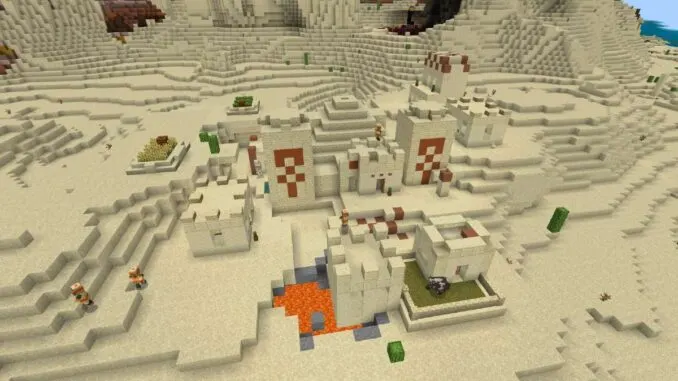 You will find a Desert Temple directly beneath a single Village house in an amazing and nearly impossible situation. Then a Stronghold can be found even lower. If that isn't incentive enough for you to use this seed, you'll be pleasantly surprised by the abundance of other useful buildings that stand between you and the unique Desert Temple.
The Expanse
Seed: 1432766570
Key Locations
Desert Temple: 152 -648
Desert Temple: -152 -392
Desert Temple: 312 -232
Desert Temple: 696 40
Desert Temple: 616 664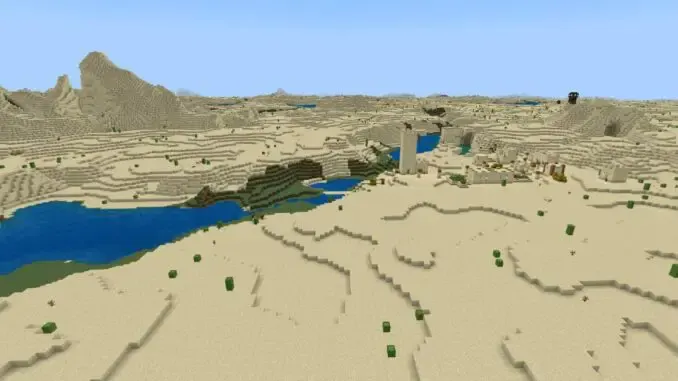 If you want a really good Desert seed, this is the kind of seed you would initially consider. Within a few thousand blocks of spawn, the vast desert contains more than 20 Desert Temples.
Best Minecraft Java Desert Seeds
Clusters of Structures
Seed: 2814749802107550
Key Locations
Jungle Biome (Near Jungle Temples): -400 450
Desert Biome (Near Desert Temples and Villages: 400 -450
Badlands Biome (Near Cluster of Ancient Cities): 3200 0
Ocean Biome (Near Ocean Monuments): 240 -2000
Snow Biome (Near Igloos): -2400 -2900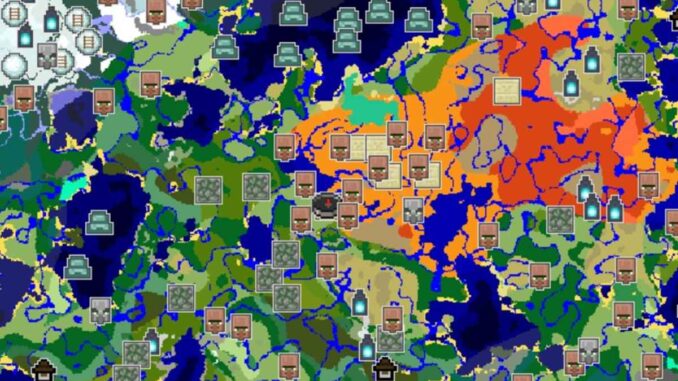 You begin next to a jungle and on the outskirts of a desert. Within a few thousand blocks, you will find groups of various buildings in all directions. There are biomes with all of the appropriate climatic conditions and architectural styles. The Woodland Mansion is the only building without a cluster, but there are still at least two of them within 5,000 blocks!
Desert Duel
Seed: -8499699871731677737
Key Locations
Village: 176 128
Desert Temple: 216 104
Village: 144 -176
Desert Temple: 138 -168
Village: -160 0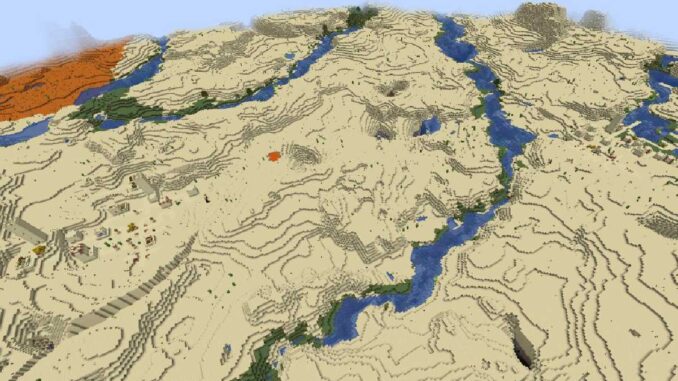 You will find two Desert villages in this amazing Desert spawn, each with its own Desert Temple, and they are only divided by a river. If you want immediate access to a ton of uncommon buildings and village resources, start with this seed.
Life on a Deserted Island
Seed: 151879205
Key Locations
Village: 16 0
Desert Temple: 280 24
Shipwreck: 56 232
Shipwreck: -104 -232
Shipwreck: 136 -232
You get a taste of what it would be like to live on a deserted island when you first create your world. A village is nearby to assist you with anything you require – except for wood! This is the ideal seed to test your ability to leave the island without any wood at first.