The Valentine's Day Event is coming to Apex Legends, and here's its start date, as well as the skins and new mode that will go along with it.
Apex Legends Valentine's Day Event start date
Supposedly, the Apex Legends Valentine's Day Event will begin on February 7, 2023. Since February 14 is Valentine's Day, the Apex Legends celebration should last until the following week.
Date Night LTM details
During the Apex Legends Valentine's Day Event, players can try out a brand new limited-time mode called Date Night. This unique take on duos has participants competing for the title of "Cutest Couple" at the Apex Games. If a teammate is in range when you use a health or shield restoration item, they will also be healed or protected.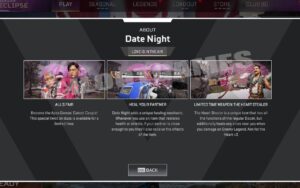 This mode also introduces a limited-time variant of the Bocek Bow called the Heart Seeker. The Heart Seeker functions similarly to the traditional Bocek Bow, except that when it damages an enemy, nearby allies are healed.