Zach Lowe and Ramona Shelburne warned that Ime Udoka's current situation is getting worse. "It's ugly and it's going to be really sad… There's going to be damage here."
Ime Udoka's current situation is getting worse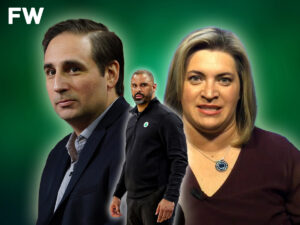 During a recent episode of Zach Lowe's "The Lowe Post" podcast, the ESPN analyst was participated by Ramona Shelburne and Tim Bontemps to debate the league's hottest topics, containing the Robert Sarver agreement and Ime Udoka's present situation.
When asked why the owner and head coach were both punished likewise, Lowe released information about what could have occurred within the Celtics organization. First, Ramona disclosed that there is more to this story that we don't know about, which could be extremely dangerous to many people (24:19).
It sounds like there is a lot to this story that may come out, may not come out, but it sounds like a lot of people are gonna be affected in pretty messy, ugly ways. I don't know if we can all judge later on because this is a fair enough punishment, but I know that Ime Udoka is one of the best young coaches in the league, that he took the Boston Celtics to the Finals last year, and for them to consider such a massive penalty, it has to be pretty severe. So, obviously, it's going to change the dynamics in the team now, it's really gonna change the dynamics of their season, and we just have to trust the investigation and people handling it at this point."
Lowe expanded on these remarks, saying that it could be tragic for everyone involved in the scandal.
"Based on what we have found out [about the Udoka situation], you and I have been on the phone for 20+ hours, I do think it's messy, and it's ugly and it's going to be really sad. Whatever happens, there's going to be damage here one way or another."
The Boston Celtics entered the season with great hopes following an offseason in which they added players who made them favorites for the championship.
Things are now break down, and they'll most likely have to wait another season before having another legitimate shot at the title. As we all know, nothing is guaranteed, and this case could signal the end of something mysterious for the C's.
About Ime Udoka
Career history
As player:
2000–2001
Fargo-Moorhead Beez
2001
Independiente
2002–2003
North Charleston Lowgators
2003
Adirondack Wildcats
2003–2004
Charleston Lowgators
2004
Los Angeles Lakers
2004
Charleston Lowgators
2004
Gran Canaria
2005
JA Vichy
2005–2006
Fort Worth Flyers
2006
New York Knicks
2006–2007
Portland Trail Blazers
2007–2009
San Antonio Spurs
2009–2010
Sacramento Kings
2010–2011
San Antonio Spurs
2012
UCAM Murcia
As coach:
2012–2019
San Antonio Spurs (assistant)
2019–2020
Philadelphia 76ers (assistant)
2020–2021
Brooklyn Nets (assistant)
2021–present
Boston Celtics
Career highlights and awards
As player:

All-NBA D-League First Team (2006)
All-NBDL Second Team (2004)
Jason Collier Sportsmanship Award (2006)

As assistant coach:

Career NBA statistics
Points
1,635 (5.2 ppg)
Rebounds
926 (2.9 rpg)
Assists
308 (1.0 apg)
Stats 
 at NBA.com
Stats at Basketball-Reference.com