Ime Udoka had a scandal with a Celtics staffer who was involved in Nia Long 's plans to permanently relocate to Boston.
Nia Long relocated to Boston permanently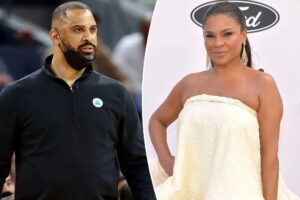 The Boston Celtics postponed Udoka for the rest of the season on Friday after he breeched organizational rules by having a relationship with a team employee.
— Boston Celtics (@celtics) September 23, 2022
According to sources close to TMZ and the couple… Nia Long had just relocated to Boston with Kez, her 10-year-old son with Ime, and the couple was looking for a house.
According to TMZ, the Celtics staffer participating with Udoka arranged Long's trip to Boston.
Ime Udoka's affair with a Celtics employee aided in making all of his travel plans… And part of his job included planning trips for his fiancée, Nia Long.
The Celtics employee with whom Ime Udoka had an affair helped make all his travel arrangements … and that job sometimes included organizing travel for his fianceé, Nia Long. https://t.co/Qqumf1p06R

— TMZ (@TMZ) September 24, 2022
The unfortunate twist for Nia is that when she relocated, Ime was already well aware that his scandal with a married front-office employee was about to pump-up. Ime was informed in July that the team was aware of the affair and was conducting an investigation.
Meanwhile, we're told Nia only found out about it recently… Only because Ime was aware that it was about to be made public.
Maybe most saddening for Nia is that the employee was involved in Nia's plans to relocate to Boston permanently.
On Friday, Long released a statement to the Boston Globe.
"The outpouring love and support from family, friends and the community during this difficult time means so much to me," Long said. "I ask that my privacy be respected as I process the recent events. Above all, I am a mother and will continue to focus on my children".
About Ime Udoka
Position
Head coach (suspended)
League
NBA
Personal information
Born
August 9, 1977
Portland, Oregon
Nationality
American / Nigerian
Listed height
6 ft 5 in (1.96 m)
Listed weight
220 lb (100 kg)
Career information
High school
Jefferson (Portland, Oregon)
College

Utah State Eastern (1995–1997)
San Francisco (1997–1998)
Portland State (1999–2000)

NBA draft
2000 / Undrafted
Playing career
2000–2012
Position
Small forward
Number
5, 8, 3
Coaching career
2012–present
Career history
As player:
2000–2001
Fargo-Moorhead Beez
2001
Independiente
2002–2003
North Charleston Lowgators
2003
Adirondack Wildcats
2003–2004
Charleston Lowgators
2004
Los Angeles Lakers
2004
Charleston Lowgators
2004
Gran Canaria
2005
JA Vichy
2005–2006
Fort Worth Flyers
2006
New York Knicks
2006–2007
Portland Trail Blazers
2007–2009
San Antonio Spurs
2009–2010
Sacramento Kings
2010–2011
San Antonio Spurs
2012
UCAM Murcia
As coach:
2012–2019
San Antonio Spurs (assistant)
2019–2020
Philadelphia 76ers (assistant)
2020–2021
Brooklyn Nets (assistant)
2021–present
Boston Celtics