The seemingly unintentional release of a FIFA 23 Hero Pack for 25,000 Coins into the store has caused quite a stir in the FIFA community. So, if you're wondering whether you'll receive compensation for the FIFA 23 Hero Pack, keep reading.
FIFA 23 Hero Pack Explained
When the FIFA 23 Hero Pack was released, there was only one Hero card priced under 25,000 coins, so you are pretty much guaranteed a profit of between 5,000 and 2,100,000 coins, depending on your luck.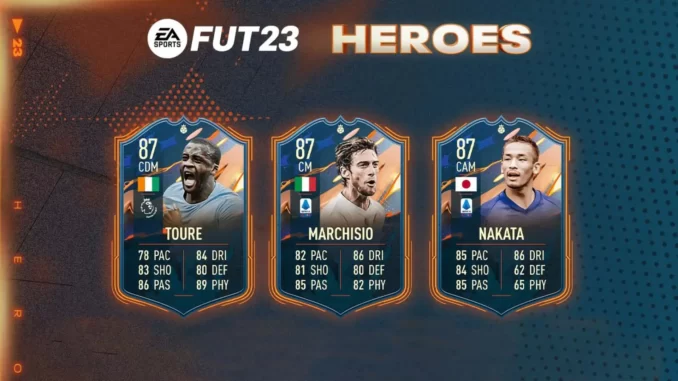 It was only ten minutes before this pack was abruptly removed from the store, leaving anyone who didn't log in during the brief period when it was available severely disappointed. Furthermore, many players believe that EA, in an attempt to control the market crash, purchased all of the underpriced FIFA 23 Heroes in order to reset their value to what it was before the pack, essentially erasing any evidence of the pack in the first place.
However, many players have seen a significant decline in the value of their existing Heroes, and more significantly, those who were able to open the pack have seen a significant increase in their coin balance at a time when even small gains can add up quickly.
Will We Get Compensation For The Fifa 23 Hero Pack?
As of this writing, EA has not issued any official communication regarding compensation for the FIFA 23 Hero Pack. However, it is somewhat complicated because compensation can take two forms.
The first and most popular form of compensation for the FIFA 23 Hero Pack is some kind of availability for the players who didn't receive one. Whether this entails giving every player who missed it a hero pack that cannot be traded, or simply bringing the Hero Pack back to the store.
Unfortunately, the players who actually got the pack will most likely receive compensation because the reward did, in fact, differ from what was advertised. Despite the fact that the tradeable reality was more desirable, the pack was initially signaled as being untradeable, so it was still in conflict with the advertised purchase. Given that this pack was purchased with FIFA Points, it is even more likely that EA will compensate for this.
Those who missed the pack, on the other hand, may be entitled to compensation under the same circumstances, because the pack was advertised with a time and quantity limit, which some claim was not met.
Regardless, we will have to wait for official communication from EA, as they are likely taking their time determining the best course of action.
FIFA 23 wiki :
FIFA 23
Developer(s)
EA Vancouver
EA Romania
Publisher(s)
EA Sports
Series
FIFA
Platform(s)

Microsoft Windows
Nintendo Switch
PlayStation 4
PlayStation 5
Xbox One
Xbox Series X/S
Stadia

Release
30 September 2022
Genre(s)
Sports
Mode(s)
Single-player, multiplayer