A FIFA 23 dribbling trick will allow you to completely destroy your opponents with a quick movement that burns right past them.
FIFA 23 – How to perform the dribbling trick
From the 'Lengthy' exploit to simple tricks that allow you to score directly from corners, these minor advantages have allowed players to get the most out of their FIFA 23 experience.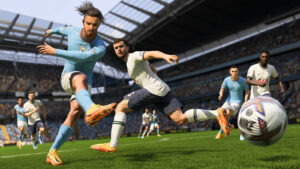 Whereas holding Sprint allows you to rip past an opponent at breakneck speed, and the trick stick can be used to great effect if you have a 5* skiller, Agile Dribbling is an underutilized mechanic in this year's game.
Simply flick the left stick in the direction you want to go while pressing R1 on the PlayStation, RB on the Xbox, or the appropriate button on other platforms to carry out this action. Your player will instantly shift the ball a yard in that direction, creating a space for you to pass, fly past an opponent, or get a shot off.
There aren't many players using it because they're too focused on the new Power Shot mechanic and making sure they don't mess up the new Griddy celebration.
About FIFA 23
FIFA 23
Developer(s)
EA Vancouver
EA Romania
Publisher(s)
EA Sports
Series
FIFA
Platform(s)

Microsoft Windows
PlayStation 4
PlayStation 5
Xbox One
Xbox Series X/S
Stadia

Release
30 September 2022
Genre(s)
Sports
Mode(s)
Single-player, multiplayer