Overwatch 2's next new hero, Ramattra, will carry on the series' rich tradition of voice work. He speaks grandiosely and likes to impose his philosophy on others, so he requires a convincing voice to round out his character. He, fortunately, has one. Here's everything we know about Ramattra's voice actor.
Who is Ramattra's voice actor in Overwatch 2?
Ramattra's English voice actor is Ramon Tikaram. Tikaram has appeared in a number of popular TV shows over the years, including HBO's hit show Game of Thrones. He's also a well-known video game voice actor, having appeared in titles such as Dragon Age: Inquisition, Fable 3, and Need for Speed Payback. Notably, Tikaram has also provided voice work for characters in FromSoftware games such as the Elden Ring. In the latter, Tikaram provided the voice of Elden Ring boss Godrick the Grafted, one of the game's first major bosses.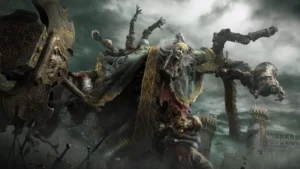 Ramattra's voice was first heard in the original Overwatch during an Archives PvE mission. In a cutscene, the then-unnamed omnic spoke with Doomfist about enlisting Talon's assistance to further the Null Sector organization's mission. It's unclear whether Tikaram provided the voice for Ramattra's first appearance, but his voice does sound similar to the one heard during the omnic's first appearance.
While it is unclear whether Ramattra will play a significant role in Overwatch 2 PvE, Blizzard has confirmed that the character will have some unique interactions with Support hero Zenyatta. There's also a chance he'll appear in an animated short, but that's still up in the air.
Overwatch 2 is now available in early access on PC, PS4, PS5, Switch, Xbox One, and Xbox Series X.
About Overwatch 2
Overwatch 2
Developer(s)
Blizzard Entertainment
Publisher(s)
Blizzard Entertainment
Director(s)
Aaron Keller
Platform(s)

Nintendo Switch
PlayStation 4
PlayStation 5
Windows
Xbox One
Xbox Series X/S

Release
October 4, 2022
Genre(s)
First-person shooter
Mode(s)
Multiplayer