Modern Warfare 2 already has a number of bugs and issues, and with the official release approaching, it appears that the early access version will encounter new issues as time passes. This guide will examine whether it is possible to resolve the "display name is not allowed" bug in Modern Warfare 2.
How to fix the "display name is not allowed" bug in Modern Warface 2
The Modern Warfare 2 campaign has finally arrived for those with early access. Unfortunately, instead of enjoying the campaign, many players are currently experiencing a variety of issues.
When players attempt to enter your username, they will be prompted to change their display name, despite the fact that this is not against the game's terms of service. The main issue here is that no renaming tokens will be available, trapping players in an inescapable cycle.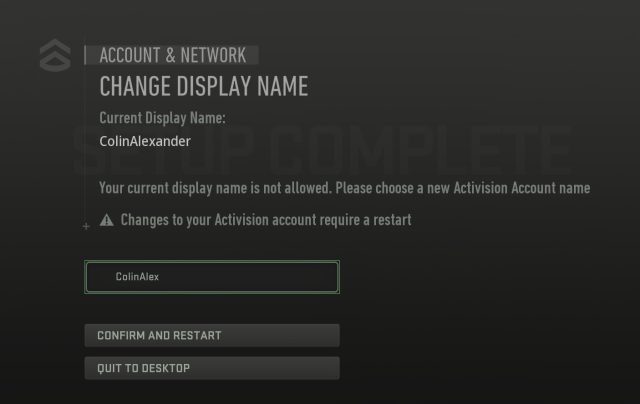 The display name bug is a particularly frustrating error since players who have used the same username for years in other Call of Duty and
Activision
titles are suddenly met with the error message.
While there is no definitive fix for the bug, players are strongly advised not to change their display names. The majority of impacted usernames have not been found to violate Activision's terms of service, and the bug will most likely persist if you attempt to change your name.
Some players discovered that they could change their username without using tokens, and that when they returned to the game later, they could use their previous username rather than the new one. You can also restart the game or your computer to see if that helps. But for the time being, it's best to return later and see if you can use the username you want.
As frustrating as it is, players can only hope that the bug is fixed in the near future. While many people have had to wait a while to get their hands on Modern Warfare 2, some lucky players will have to wait even longer.