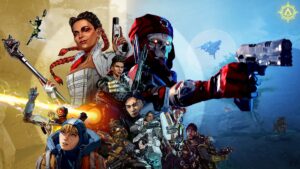 Find out when you can expect the Apex Legends Anniversary event to begin in 2023, which skins have been revealed, and more.
Apex Legends Anniversary event 2023 expected release date
The fourth Apex Legends Anniversary event does not yet have an official release date.
However, leaks indicate that this event will take place on February 22, 2023. Players will receive two thematic packs, similar to the Apex Legends anniversary in 2022. The Thematic Packs will be based on Ash and Crypto, and will include the legends if you don't already have them unlocked.
Similar to the 2022 Anniversary, we'll be given a thematic pack for Ash and Crypto for the 2023 Anniversary (+ unlocking them if you don't own either) pic.twitter.com/aElqYjnT1r

— Senos (@SenosApex) January 19, 2023
Leaked skins
HYPERMIST, a well-known Apex Legends leaker, has revealed what may be the Apex Legends Season 16 Anniversary Collection Event skins. In their video showcasing all of the leaked Apex Legends Anniversary skins, we can see Bloodhound, Bangalore, Octane, and Gibraltar skin bundles, among others.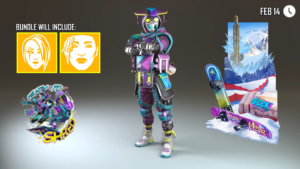 Apex Legends anniversary event may offer Heirloom Shards
The next anniversary of Apex Legends is coming up, and if players' expectations are met, the upcoming event will make it easier for them to obtain an Heirloom of their choosing. A recent rumor suggested that, instead of the usual Heirloom or Prestige Skin, players might receive a set of Heirloom Shards as the final reward for participating in the anniversary event.
If you were hoping for apex legends anniversary heirloom shards make sure to have translation on, this is a reliable source. https://t.co/iNrG4zMiJ6

— Thordan Smash (@Thordansmash) January 28, 2023
Additionally, a screenshot showing Heirloom Shards emerging from an Apex Pack was released, implying that these rare items would be the ultimate reward for completing the event's set of cosmetic challenges. 
Even though Heirloom Shards may be on the table, obtaining them will not be simple. All of these major events have 24 cosmetics available for purchase or crafting, and if players spend enough in-game currency or real-world money on the event, they receive the Mythic cosmetic being offered. This can make some players disinterested in events if the featured Heirloom is for a Legend they don't play. However, events like this one, which offer Heirloom Shards as the expensive prize, are good catchalls for anyone who has been wanting an Heirloom and has some money to spare.
That's all you need to know about the Apex Legends Anniversary event 2023.