Olympus has been temporarily disabled in Apex Legends, which means you won't find it in either the ranked or Play Apex game modes.
Apex Legends has disabled the Olympus map to fix bugs
Those who logged into Apex Legends today may have been perplexed by the noticeable absence of Olympus. Respawn claims that they had to disable this map in order to fix the Engine Error – UI Images Ran Out of Room error code that has been plaguing players and causing server crashes ever since the new split update went live on Tuesday, January 17. 
Update: We've gone ahead pushed out a playlist update that removes Olympus from rotation and replaces it with World's Edge. This will allow us to continue to work on the issue without impacting gameplay. https://t.co/u3gO70TkRg

— Respawn (@Respawn) January 19, 2023
Many ranked players have complained that Masters and Predator players are joining lobbies with Rookie or Bronze players, but it's not clear if this is due to the map or something else. It is possible that this occurrence is a result of the new matchmaking system working out its kinks as Respawn introduces it and retires the previous SBMM system.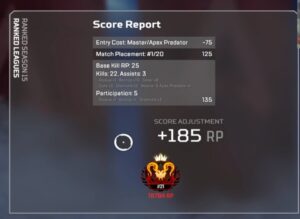 Whatever the case may be, it appears that Olympus fans are out of luck for the time being, as their preferred map appears to be the source of the game's issues. This is the case in all battle royale modes, including Control, where the usual Hammond Labs map appears to have been removed from the LTM's map rotation. In lieu of this, Barometer and Lava Siphon have longer "live" Control map durations.
Hopefully, Respawn will make every effort to fix the issue as soon as possible.
About Apex Legends
Apex Legends
Developer(s)
Respawn Entertainment
Publisher(s)
Electronic Arts
Director(s)
Steven Ferreira
Producer(s)
Ben Brinkman
Designer(s)
Jason McCord
Artist(s)

Robert Taube
Kaelan De Niese
Ryan Lastimosa
Benjamin Bisson
Jung Park

Writer(s)
Mohammad Alavi
Composer(s)
Stephen Barton
Series
Titanfall
Engine

Source
Unreal Engine 4 (Mobile)

Platform(s)

PlayStation 4
Windows
Xbox One
Nintendo Switch
PlayStation 5
Xbox Series X/S
Android
iOS

Release

PS4, Windows, Xbox One
February 4, 2019
Nintendo Switch
March 9, 2021
PS5, Xbox Series X/S
March 29, 2022
Android, iOS
May 17, 2022

Genre(s)
Battle royale, first-person hero shooter
Mode(s)
Multiplayer