The Warzone Pacific meta changed dramatically after the Season 4 Reloaded update introduced a slew of weapon balancing changes, and players are now looking for the best guns to use. IceManIsaac, a Call of Duty pro, was examining the new medium-range meta and then revealed the best Vanguard Assault Rifle players should try out after dropping into a COD Warzone Pacific game.
Vanguard Weapon Is The Best Assault Rifle In COD Warzone Pacific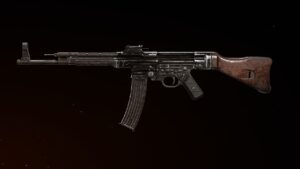 Following the meta change, we can clearly see that the STG44 Assault Rifle is now being used in tournament loadouts by many professional players. The STG44 Assault Rifle, according to IceManIsaac, is an "old meta that has returned with a vengeance." He praised the weapon recoil, TTK, and movement speed, which make it ideal for quickly dispatching enemies in medium-range engagements. IceManIsaac then revealed the best loadout for the weapon.
Ammo Type: Lengthened
Barrel: VDD 760mm 05B
Muzzle: MX Silencer
Magazine: 7.62 Gorenko 50 Round Mags
Optic: SVT-40 PU Scope 3-6x
Perk 1: Nerves of Steel
Perk 2: Fully Loaded
Rear Grip: Hatched Grip
Stock: VDD 34S Weighted
Underbarrel: M1941 Hand Stop
The Hatched Grip, M1941 Hand Stop, Nerves of Steel and VDD 34S Weighted are the main components of IceManIsaac's loadout, which is designed to control the STG44's recoil. Once the weapon is more accurate, we can use the SVT-40 PU Scope 3-6x to eliminate enemies at a distance.
The 7.62 Gorenko 50 Round Mags will provide you with enough enemies to eliminate them all. The Lengthened ammo type increases bullet velocity, allowing you to quickly shred through your enemies. Finally, Fully Loaded ensures that you have the maximum amount of ammo.
With these attachments installed, the STG44 will enable you to deliver some serious pain in a hurry. So, if you drop into Caldera, Fortune's Keep, or Rebirth Island, make sure to try this loadout.
COD Warzone Wiki
Call of Duty: Warzone
Developer(s)
Publisher(s)
Activision
Series
Call of Duty
Engine
IW 8.0
Platform(s)
Microsoft Windows
PlayStation 4
Xbox One
PlayStation 5
Xbox Series X/S
Release
Microsoft Windows, PlayStation 4, & Xbox One
March 10, 2020
PlayStation 5 & Xbox Series X/S
2022
iOS & Android
TBA
Genre(s)
Battle royale, first-person shooter
Mode(s)
Multiplayer