In this article, we've covered everything you need to know about installing the Vampire Survivors cheat engine, all the cheats available in your game, and how to uninstall mods.
Vampire Survivors Cheats
X-x1viiq – unlocks Exdash as a playable character
Up, Up, Down, Down, Left, Right, Left, Right, Esc, Enter – get 5,000 gold (only once)
Vampire Survivors Cheat Engine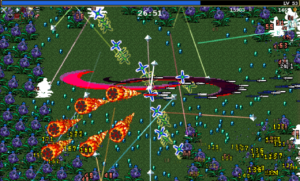 To ensure that everything works properly, you must use the most recent version of the Vampire Survivors Cheat Mode mod (currently version 0.5.0).
Download the Zip file from Nexus Mods, then drag the resources folder into the game folder. By right-clicking Vampire Survivors in your Steam library and selecting 'Browse local files,' you can easily access the game folder.
After installing the mod, open the game. You now have access to the Vampire Survivors cheats listed below.
Main Menu cheats
C – add new coins
R – clear the game data
U – unlocks all of the game's content except for the game's secret characters such as Red Death.
In-game cheats
E – Maximize the number of enemies visible on the screen.
G – Open a treasure chest containing five items.
H – Restore your character's health to 100%
I – Make your character immune to damage for the duration of the game.
K – Eliminate all of the enemies visible on the screen, excluding any Death enemies.
O – Game Over.
Q – Showcase
T – The game clock ticks to the next minute rather than the next second.
V – Suck in every items on the ground.
X – Level up your character
Z – Unlock all weapons
Scrolling the mouse wheel – manually zooms in and out of the game
To uninstall the Vampire Survivors cheat engine mod, please follow these steps:
From your Steam library, right-click Vampire Survivors and select Browse local files
Open app
Open .webpack
Open renderer
Delete main.bundle.js
Go back to the Vampire Survivors Steam page, right-click and select Properties
Click the Local Files tab
Click Verify integrity of game files…
This method checks that all files are present before downloading a new version of the'main.bundle.js' file we just deleted. When the verification process is finished, the game reverts to its original state. If you use the cheat to reset the game's data, anything you activate or unlock will remain after you uninstall the mod.
Vampire Survivors Wiki
Vampire Survivors
Developer(s)
Luca Galante
Publisher(s)
Luca Galante
Platform(s)
Microsoft Windows, MacOS
Release
17 December 2021
Genre(s)
Roguelike, shoot 'em up
Mode(s)
Single-player