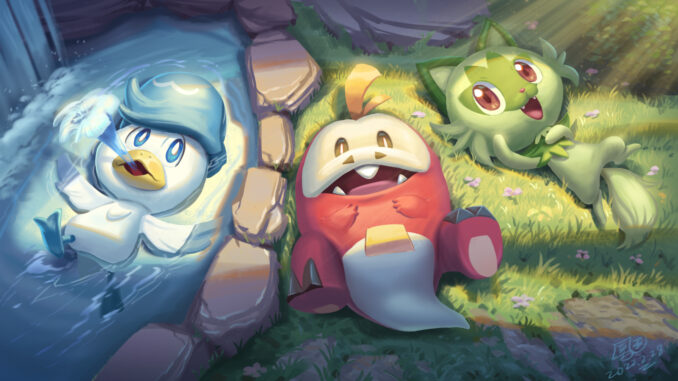 Earlier today, a bunch of Pokemon Scarlet and Violet leaks surfaced on Twitter and other social media sites. Although they haven't been confirmed, the pictures seem more likely to be real than some of the other leaks that have appeared online due to their design and a few other details.
Pokemon Scarlet and Violet Alleged Leaks
Recently, a trusted leaker, Kuu, shared information about 9th generation characters, including gym leaders and members of the Elite Four. Another account, called PokemonLEAKS, shares some in-game screenshots with different gym leaders showing what additional rivals look like. This would be consistent with Khu's initial leaks about Pokemon Scarlet and Violet's Gym Leaders, according to which half of these trainers would use types that Gym Leaders in Kanto and Johto share.
https://twitter.com/PKMNleak/status/1546515270440820736
Furthermore, in an earlier leak that dates back to June 16, Khu shared the picture of a woman of color with white hair, a singer. This matches the appearance of the alleged Ghost-type Gym Leader shared by PokemonLEAKS. It's also worth noting that Khu's latest tweet states that someone is covering the shots for them, possibly alluding to PokemonLEAKS' images.
Additionally, a new leak of a regional Girafarig also appeared online. This might have something to do with Khu's "regional fake" riddle that he teased out a few weeks ago.
what the flying f*ck xD yo @realblaines this a straight up moon landing Girafarig heheh, but yeah possible leak yall 🙂 pic.twitter.com/QZjT0NU8OJ

— RuffledRowlit (@RuffledRowlit) July 11, 2022
The newest Pokemon Scarlet and Violet trailer appears to be on its way. While the Pokemon Company typically makes new information announcements at the beginning of each month, the Fourth of July and recent real-world events may have delayed the release of that trailer for a few weeks.
Pokémon Scarlet and Violet Wiki
Developer(s)
Game Freak
Publisher(s)

Nintendo
The Pokémon Company

Director(s)
Shigeru Ohmori
Composer(s)
Toby Fox (select tracks)
Series
Pokémon
Platform(s)
Nintendo Switch
Release
18 November 2022
Genre(s)
Role-playing
Mode(s)
Single-player, multiplayer