What is the Valorant Night Market ?
The Night Market is basically a place where players will have the chance to buy five Valorant skins at a bit of a discount.
Each player's Night Market is random, so you never know what skins will appear in yours!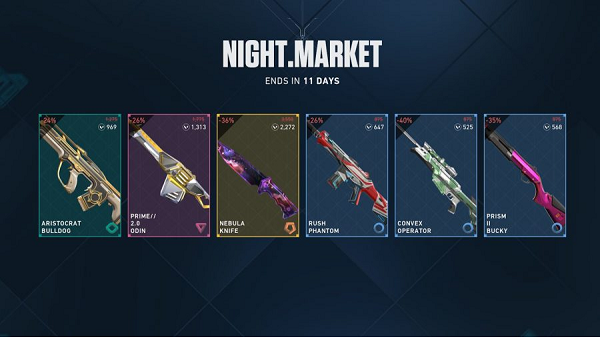 When Is The Next Valorant Night Market?
The next Valorant Night Market had been confirmed to start on July 20 and end on August 2. That's just under two weeks of cheaper goodies.
Sun's dropping. Must be about time for a Night. Market. // 07.20 to 08.02 pic.twitter.com/q6gyQtivJq

— VALORANT (@PlayVALORANT) July 13, 2022
The previous Night Market dates were:
February 11, 2021 – February 23, 2021
April 8, 2021 – April 20, 2021
June 2, 2021 – June 15, 2021
July 28, 2021 – August 10, 2021
September 29, 2021 – October 12, 2021
December 9, 2021 – December 21, 2021
February 9, 2022 – February 22, 2022
April 6, 2022 – April 19, 2022
May 18, 2022 – May 31, 2022
The Night Market currently features skins from a total of 23 collections:
Eligible skins:
8 Select Edition: Luxe, Prism II, Rush, Sensation, Smite, Convex, Galleria, Infantry .
9 Deluxe Edition: Aristocrat, Prism, Sakura, Silvanus, Wasteland, Avalanche, Horizon, Minima, Winterwunderland
6 Premium Edition: Celestial, Gravitational Uranium Neroblaster, Ion, Ego, Forsaken, Magepunk
Valorant wiki :
| | |
| --- | --- |
| Developer(s) | Riot Games |
| Publisher(s) | Riot Games |
| Director(s) | David NottinghamJoe Ziegler |
| Producer(s) | Anna DonlonJohn Goscicki |
| Designer(s) | Trevor RomleskiSalvatore Garozzo |
| Programmer(s) | Paul ChamberlainDave HeironymusDavid Straily |
| Artist(s) | Moby Francke |
| Composer(s) | Jesse Harlin |
| Engine | Unreal Engine 4 |
| Platform(s) | Microsoft Windows |
| Release | June 2, 2020 |
| Genre(s) | First-person hero shooter |
| Mode(s) | Multiplayer |