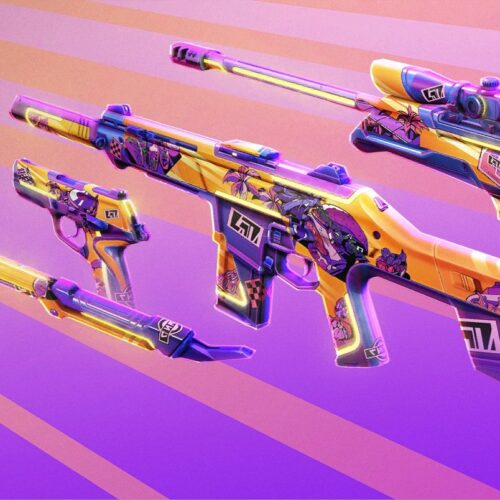 The new Valorant Daydreams Bundle has been officially revealed, and here are the key details you need to know including the release date, included items, and pricing.
Valorant Daydreams Bundle – Release Date
The highly awaited Valorant Daydreams Bundle is scheduled to become available on Tuesday, August 29, coinciding with the rollout of Valorant Episode 7 Act 2. As this enticing Bundle enters the scene, it will replace the limited-time offering of the Valorant Champions 2023 Bundle in the store.
Valorant Daydreams Bundle – Items & Price
So, what can you expect from the Valorant 'Daydreams' Bundle? According to the reputable Valor Leaks, this deluxe tier collection will feature four distinct weapon skins, one for melee combat, and a charming gun buddy.
Daydreams Classic
Daydreams Phantom
Daydreams Operator
Daydreams Judge
Daydreams Crowbar (Melee Weapon)
Daydreams Gun Buddy
NEW BUNDLE: Daydreams | #VALORANT pic.twitter.com/TcxHTWOPCS

— Mike | Valorant Leaks & News (@ValorLeaks) August 8, 2023
Drawing from historical precedent, the pricing for the 'Daydreams' Bundle might hover around 5100 Valorant Points (VP), which translates roughly to $55 USD or ₹4554 INR.
While the entire collection boasts notable highlights, two elements have truly caught the eye of the community: the uniquely designed crowbar melee weapon, which seems more reminiscent of an ice axe, and the adorable gun buddy donning cat ear headphones.
Daydreams Gunbuddy | #VALORANT pic.twitter.com/3fLnmJEKqB

— VALORANT Leaks & News (@VALORANTLeaksEN) August 8, 2023
Initial reactions to the weapon skins have been mixed within the community. However, the full story has yet to unfold, as critical information about the skins' other attributes is currently under wraps. Thus, it's a bit premature for players to draw definitive conclusions.
For now, this encapsulates the scope of information that's surfaced about the 'Daydreams' Bundle. Stay tuned for official details on the Daydreams skin bundle as its planned release date approaches. With Valorant Episode 7 Act 2 just around the corner, we'll soon see if these leaked skins live up to players' expectations.
About Valorant
Valorant is a free-to-play tactical shooter game developed and published by Riot Games for Windows. It started as Project A in October 2019 and went into closed beta on April 7, 2020, before officially launching on June 2, 2020. The game's development began in 2014. Taking cues from Counter-Strike, Valorant includes features like the buy menu, spray patterns, and accuracy while moving.
Related: