Tyrese John Haliburton (born February 29, 2000) Is an American professional basketball player for the Indiana Pacers of the National Basketball Association (NBA).
The latest injury status of Tyrese Haliburton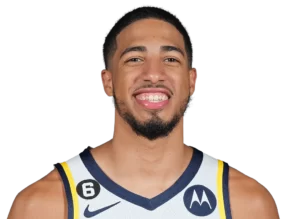 Injury:
Injury Status: Active
UPDATE (Mar. 25):
Tyrese Haliburton, an All-Star point guard for the Pacers, returned from a six-game absence due to a bruised left knee and sprained right ankle with 20 points, nine assists, and six rebounds in his debut.
This season, the Pacers have been led in scoring by Tyree Haliburton. He contributes 10.4 assists per game and shoots 48.8 percent for an average of 20.8 points.
UPDATE (Mar. 24):
Tyrese Haliburton (knee) is questionable for Friday's game versus the Celtics.
UPDATE (Mar. 22):
Tyrese Haliburton's status for Wednesday's game in Toronto due to a knee injury is uncertain.
While Haliburton has been out for the past five games, he has been increasing his activity level as of late, and is now listed as questionable for the second game in a row.
UPDATE (Mar. 20):
The Pacers and the Hornets will play one other on Monday, but Tyrese Haliburton will not be participating.
UPDATE (Mar. 17):
Tyrese Haliburton will be out for at least three games for the Indiana Pacers after suffering a sprained right ankle.
Indiana's head coach Rick Carlisle told Dustin Dopirak of the Indianapolis Star the news on Thursday that on Wednesday, Haliburton sprained his ankle during practice.
Before suffering an ankle injury on Wednesday, the All-Star guard had returned to practice after missing two games for Indiana due to a knee injury.
UPDATE (Mar. 16):
Tyrese Haliburton's status against the Bucks on Thursday is in doubt due to a knee injury.
Although Haliburton has missed the last two games with a bruised left knee, he has returned to practice and is showing signs of improvement ahead of Thursday's game.
UPDATE (Mar. 13):
According to Dustin Dopirak of the Indianapolis Star, Tyrese Haliburton will not play Monday night against the Pistons due to a knee injury.
With his left knee still bothering him, the Pacers are giving Haliburton two consecutive days off to rest. When Indiana rules Haliburton out two days before Monday's game, it's not a great omen for his availability in the Pacers' final two games of the week.
UPDATE (Mar. 11):
Haliburton has an injured left knee and is doubtful for Saturday's game in Detroit.
The Pacers may be shorthanded in the backcourt on Saturday, with Bennedict Mathurin (ankle) out of the lineup and T.J. McConnell (back) questionable.
Since the All-Star break, Haliburton's play has been outstanding, as he has averaged 27.7 points on 55.44.89 percent shooting with 13.3 assists, 2.8 rebounds, 1.6 steals, 1.6 blocks, and only 1.5 turnovers per game.
Ahead of Saturday's game, fantasy managers should get a look at the final injury report, but George Hill, Andrew Nembhard, and Chris Duarte could see more playing time than usual if coach Rick Carlisle deems it necessary.