Tyler Christopher Herro (born January 20, 2000) is an American professional basketball player for the Miami Heat of the National Basketball Association (NBA). He played college basketball for one year with the Kentucky Wildcats.
The Heat's most recent injury update on Tyler Herro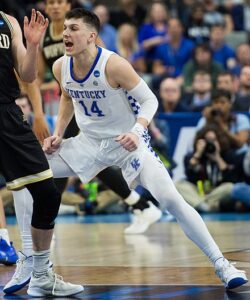 Updated: Nov. 27
Injury: Ankle
Injury status: Questionable
UPDATE: Tyler Herro (ankle) is listed as questionable for Sunday's game against the Hawks, according to Anthony Chiang of the Miami Herald.
Herro has appeared in two games since his eight-game absence. He's struggled with his shooting, going only 10-for-33 from the field, but he's racked up 13 assists. He joins five other Heat players on the list of questionable players.
Herro is questionable for Friday's game against the Wizards due to an ankle injury, according to Ira Winderman of the South Florida Sun Sentinel.
You can read also: Bills-Browns Next Gen Stats: Is James Cook in line for a bigger role?
UPDATE 2: Herro (ankle) stated that he intends to play in Wednesday's game against the Wizards, according to ira Winderman of The South Florida Sun Sentinel.
Herro has missed the last eight games due to a sprained left ankle. If Herro is able to play on Wednesday, he will most likely start in place of Max Strus or Nikola Jovic.
Tyler Herro (ankle) listed questionable for Wednesday.

— Underdog NBA (@Underdog__NBA) November 22, 2022
The former Kentucky star was named the team's 6th Man of the Year in 2022 and is one of its best players.
He is averaging 19.6 points, 6.4 rebounds, and 2.6 assists per game in ten games this season.
He also has a 46.8% field goal percentage and a 37.5% three-point percentage.
He has helped the Heat reach the NBA Playoffs three times in a row since being drafted with the 13th overall pick in the 2019 NBA Draft.
They reached the NBA Finals in 2020, and they have reached the Eastern Conference Finals in two of the last three seasons.
Read more: Josh Reynolds latest injury status for Lions vs. Bills game in Week 12
However, they have had a disastrous start to the 2022-23 season.
They are 7-11 through their first 18 games and are on a four-game losing streak. They are currently the 12th seed in the Eastern Conference.
They have a 6-4 record at home in ten games, but they are 1-7 on the road in eight games away from Miami.
Injuries have played a significant role in their slow start. The Wizards enter Wednesday with a 10-7 record in their first 17 games, tying them for the fifth seed in the Eastern Conference with the Atlanta Hawks.
About
Tyler Herro
No. 14 – Miami Heat
Position
Shooting guard
League
NBA
Personal information
Born
January 20, 2000
Greenfield, Wisconsin, U.S.
Listed height
6 ft 5 in (1.96 m)
Listed weight
195 lb (88 kg)
Career information
High school
Whitnall (Greenfield, Wisconsin)
College
Kentucky (2018–2019)
NBA draft
2019 / Round: 1 / Pick: 13th overall
Selected by the Miami Heat
Playing career
2019–present
Career history
2019–present
Miami Heat